Bridge to Gantry – Spa 24 hour 2016 – 18th October 2016
WE JUST BUILT A 68HP CITROËN RACECAR AND DROVE IT FOR 24-HOURS AT SPA FRANCORCHAMPS…
…and it was AWESOME.
So what do you want to know first? Let's divide it up for ease of reading: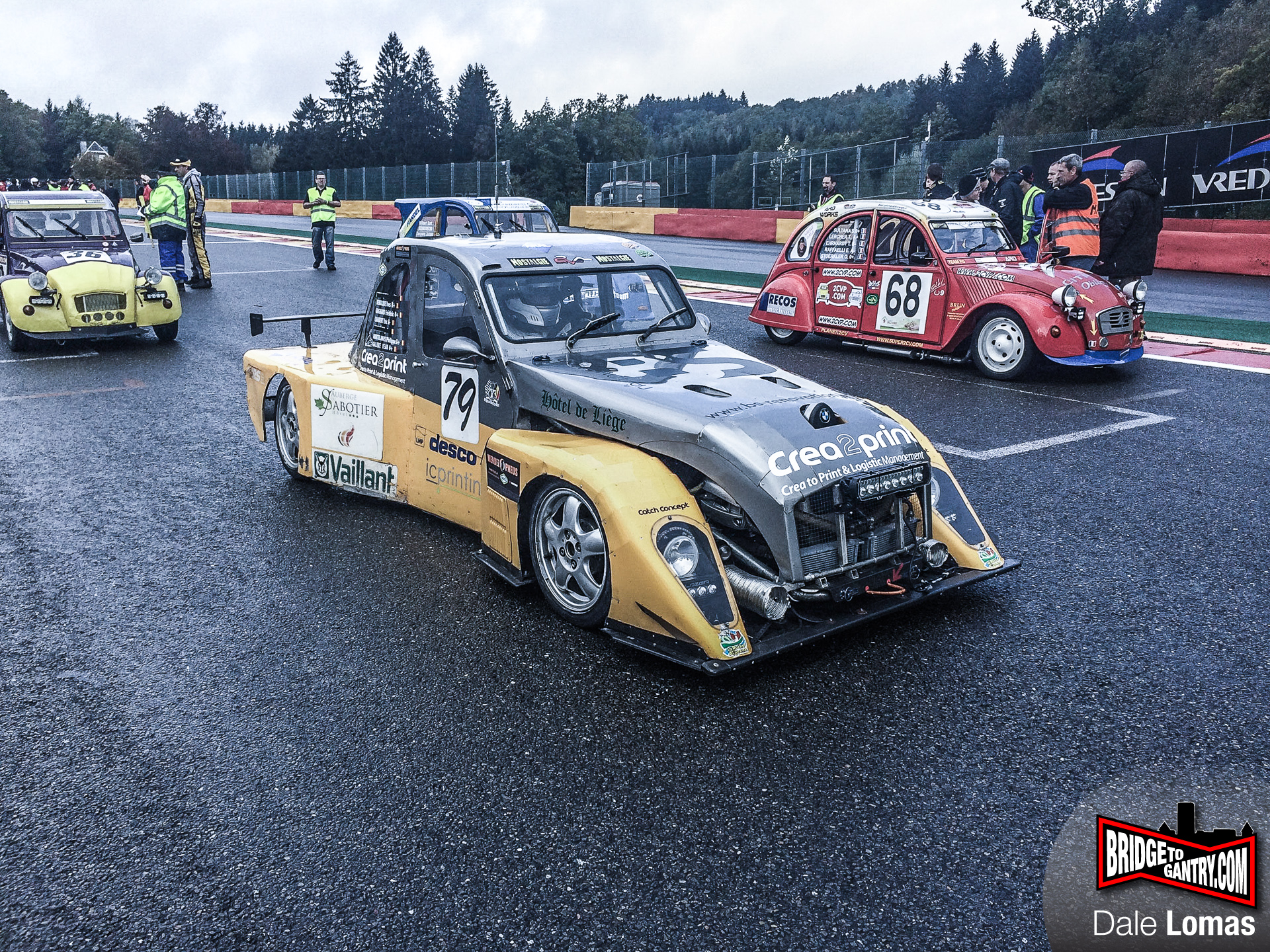 How, what and why Citroën C1 racing?
Many years ago, when the earth was still cooling, and dinosaurs didn't even need an FIA-approved suit to get in a racing car, somebody started a budget racing series for the Citroën 2CV.
It was the automotive equivalent of Honda C90 scooter racing. All the fun of real racing, but with a budget of pennies on the pound.
Nowadays a clean 2CV, good enough to turn into a racing car, doesn't sell for hundreds, it sells for thousands. Then comes the knowledge, the "black art" of making one go fast. And the modifications aren't cheap either…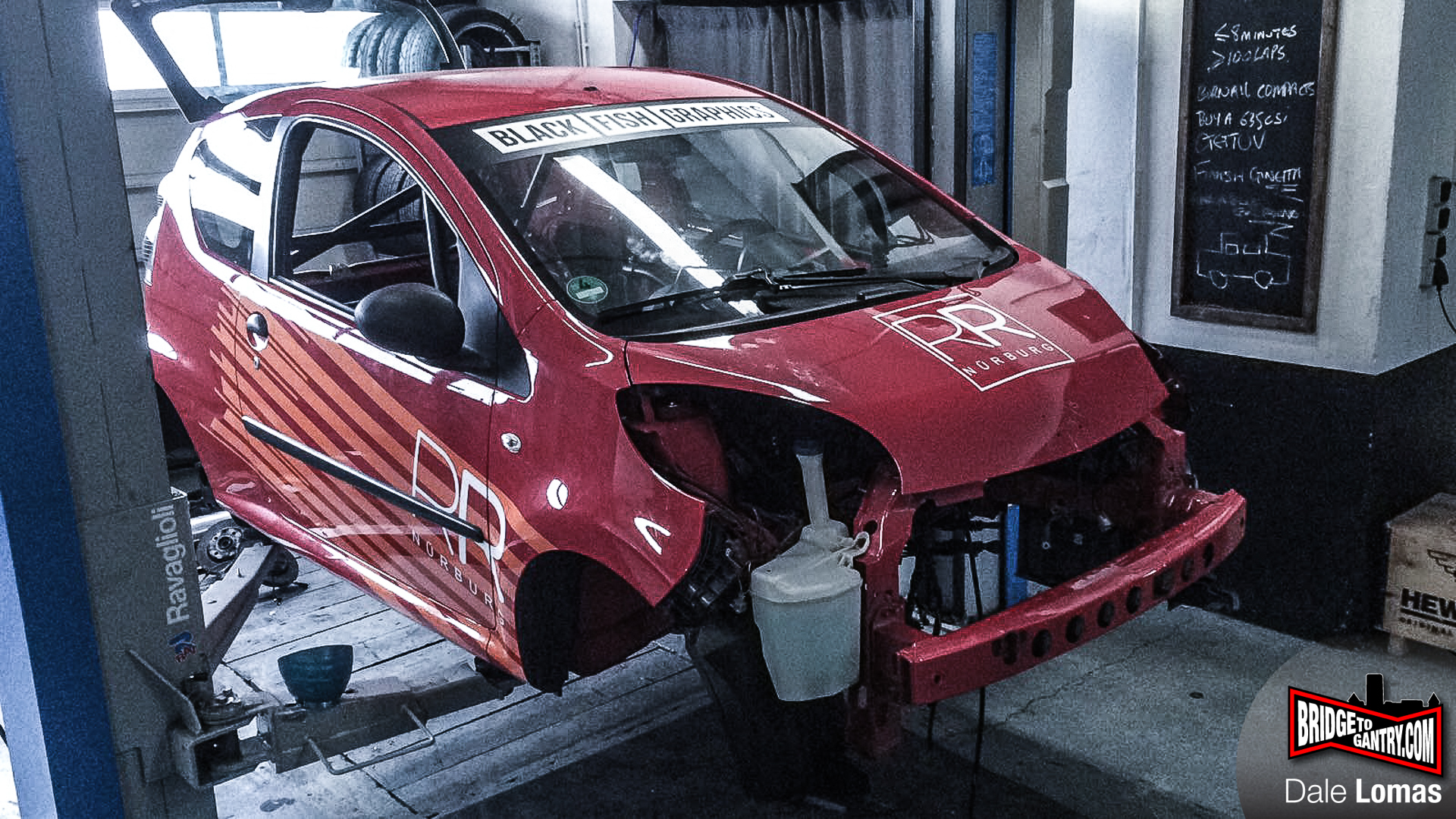 Enter the C1. It's a super-light, 1-litre econobox built as a 3-way project by Toyota, Citroën and Peugeot. Crucially, it appears that Toyota did most of the real engineering, and the other guys just made some lights and bumpers. It's cheap, cheerful and fun. All the reliability of the Toyota Aygo, but the C1 has a badge more suitable for joining a 2CV race full of French-car-fanciers. The "movement" started this summer when the British 2CV club allowed Meyrick Cox (a prolific 2CV racer, who owns some of the fastest 2CVs ever built) to bring two C1s to the 24-hour of Anglesey.
One month later, last weekend at Spa Francorchamps, there were SIX on the grid…
How do you build a 24-hour C1 endurance racer?
The concept is simple, some of the draft BARC Citroën C1 regs are here if you want to read them in full. Everything is standard, except:
Normal racecar safety equipment (cage, seat, harnesses, cut-offs, extinguisher, etc…)
Club-supplied front control arms and longer driveshafts for -3º camber and some more caster on the front axle.
Club-approved GAZ suspension kit
Control tyres (Nankang AS-1 in 155-55-14 or 155-65-14)
Brake pads are free (but OEM really work fine)
Strut braces are also free (we ran without)
Two 40w LED lamps from Masai Omega.
Spacing of the rear axle to get more negative camber
A very noisy and rattly fuel-tank guard that protects the stock plastic tank.
You can buy all the parts easily enough, although followers of the BTG Facebook page will notice there was a shortage of those Nankangs in the weeks approaching Spa!
Total cost for all the club and safety parts is a little more than €3000. Yes, that's more than the cost of a good C1, but it's worth it.
Just remember, if your car is faster, if the club suspects foul play, you'll be given a stock motor from the van and asked to change it. #TrueStory #NoCheating!
This was a team effort. We bought the car four-ways, and we built it at Racers-Retreat Nürburg and it took about a week of hard graft, and 12-to-18 hour days from 2-4 people. Ali from RR took the lead. Kjetil helped, but his role was now more of a driver…!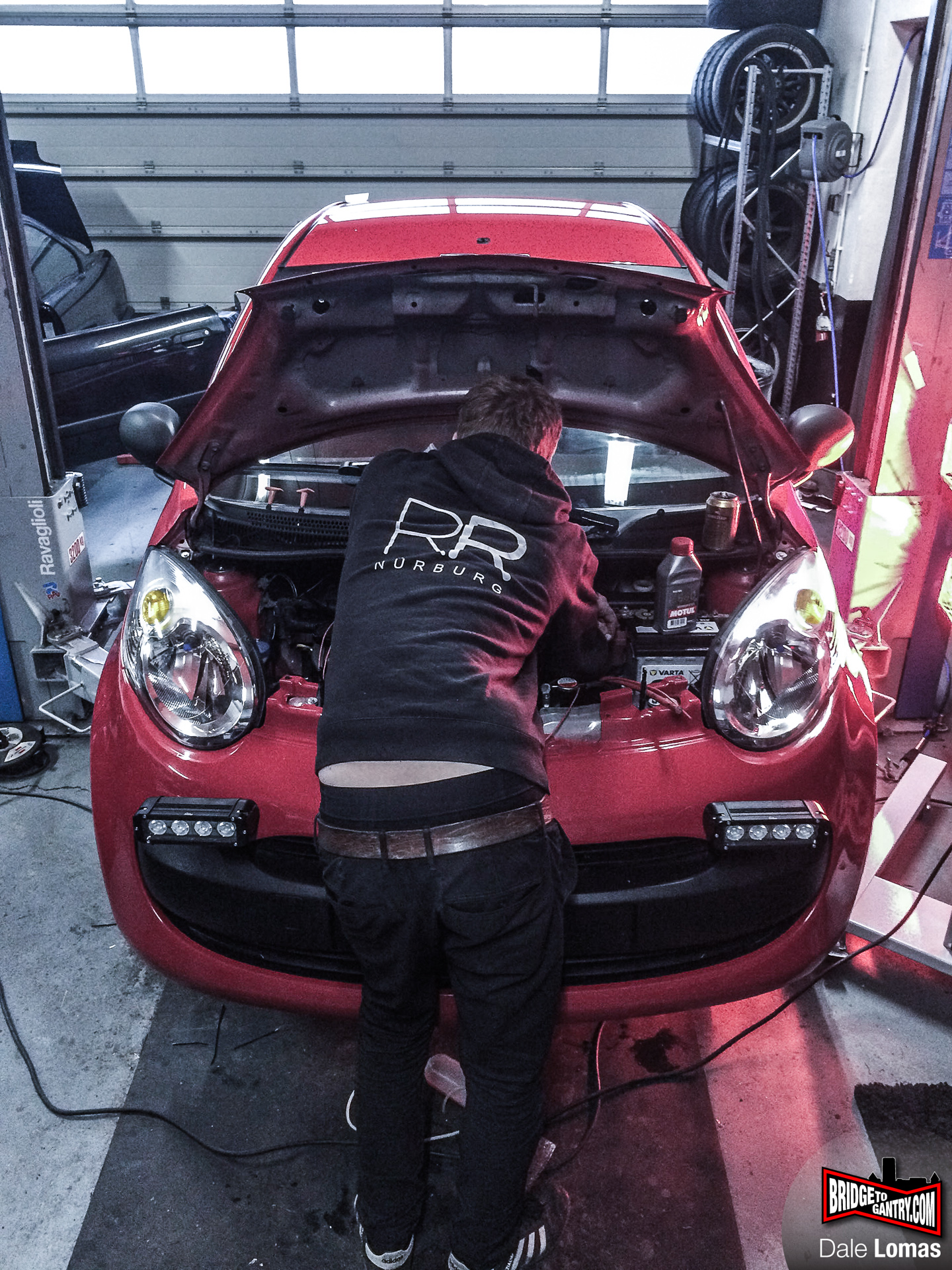 Black Fish did the sticker work, resurrecting memories of the C2 R2 factory rally car, but with more RR and BTG branding. They even got the car sprayed in Nanolex ceramic coating. Finally, Inne and Michael even volunteered to join us at Spa and offer their tents and gas-ring cooking skills!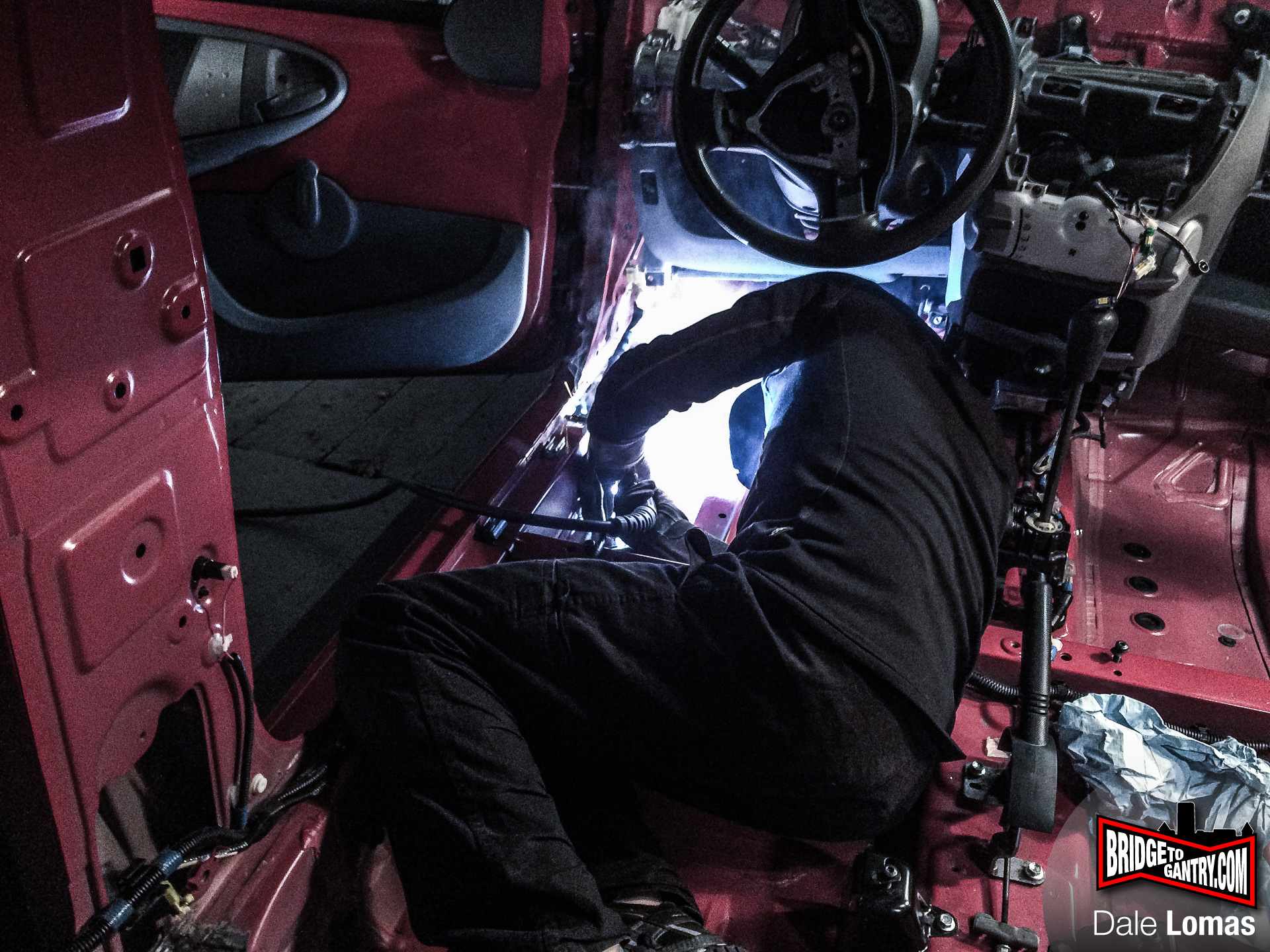 The plates that mount the bolt-in rollcage were welded in by SME. We bought over €2000 of regular OEM/Pattern spare parts from ProfiParts too. Because we're paranoid, and our donor car had 130,000kms on the clock! Our friends and family helped us pick up parts from all over Europe so that we could hit the deadline of Thursday night.
That's because practice at for the big race started at 0900 on Friday…
WELCOME TO SPA-FRANCORCHAMPS!
(answering the question, "is it fun?")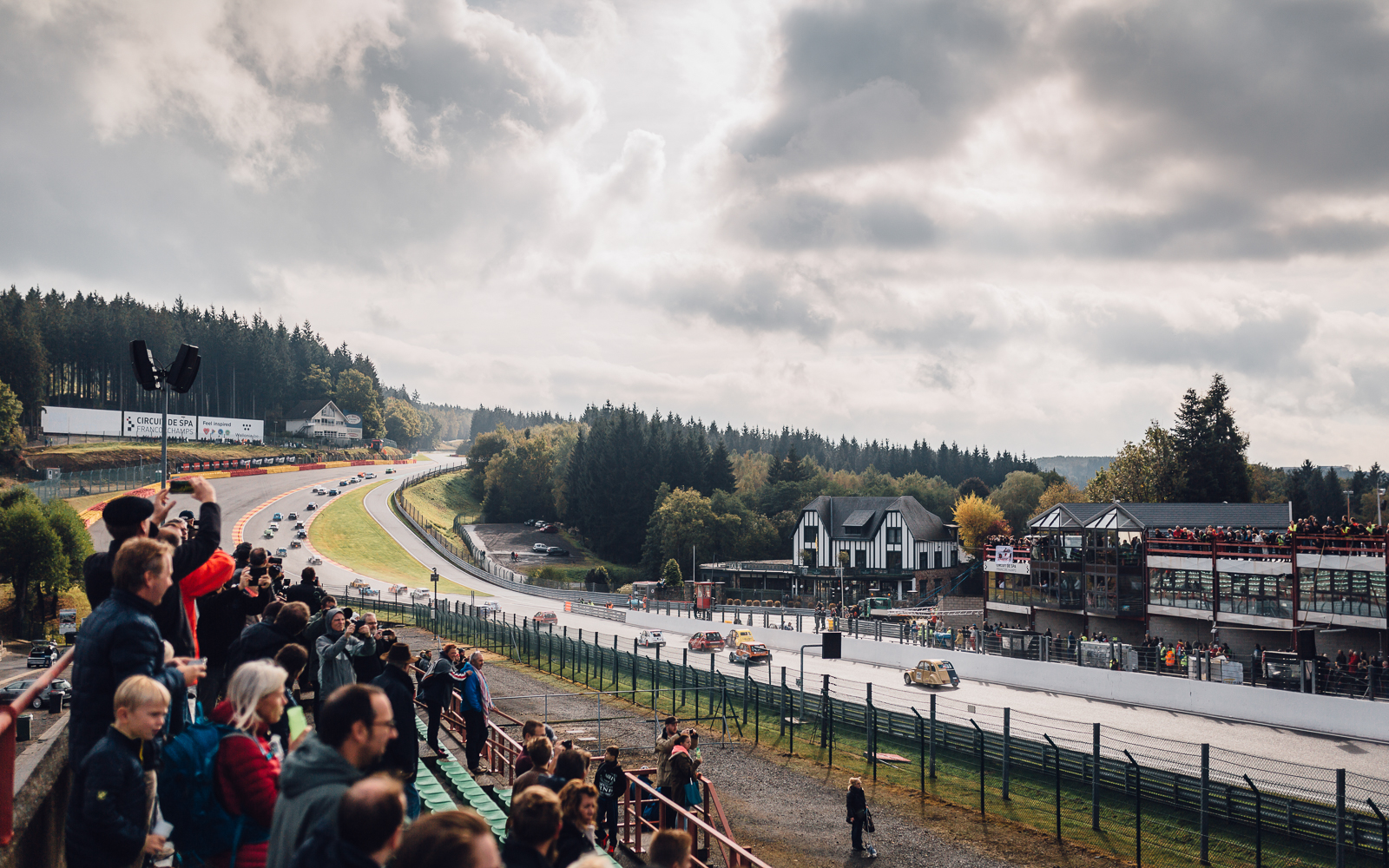 Citroën's quirky little 2CV is an 'anti-establishment' classic car. It's so laughably terrible, it's actually awesome. And the Spa 24-hour isn't just a chance for 60-plus 2CVs from all over Europe to race, it's a chance for all the deux-chevaux fans to converge, drive a lap themselves, and sell 3-bolt wheels to each other…
Into this mix, we arrived with our little three cylinder, 4-bolt-wheel, interloper…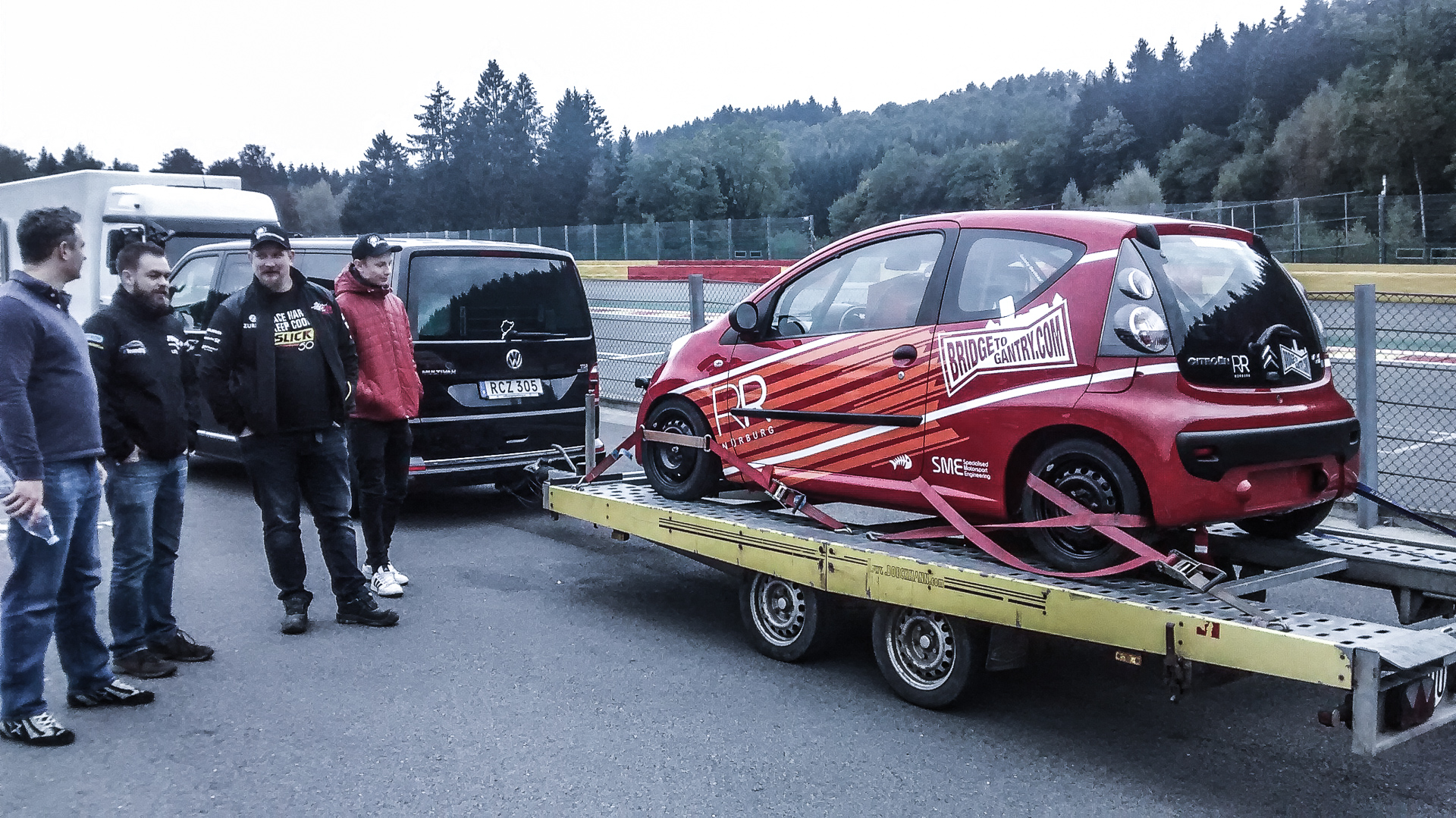 Because we arrived a little bit late (something to do with finishing the car at 1am on Friday morning) we only had 3 testing sessions available to us. Though truthfully, we hadn't actually finished yet…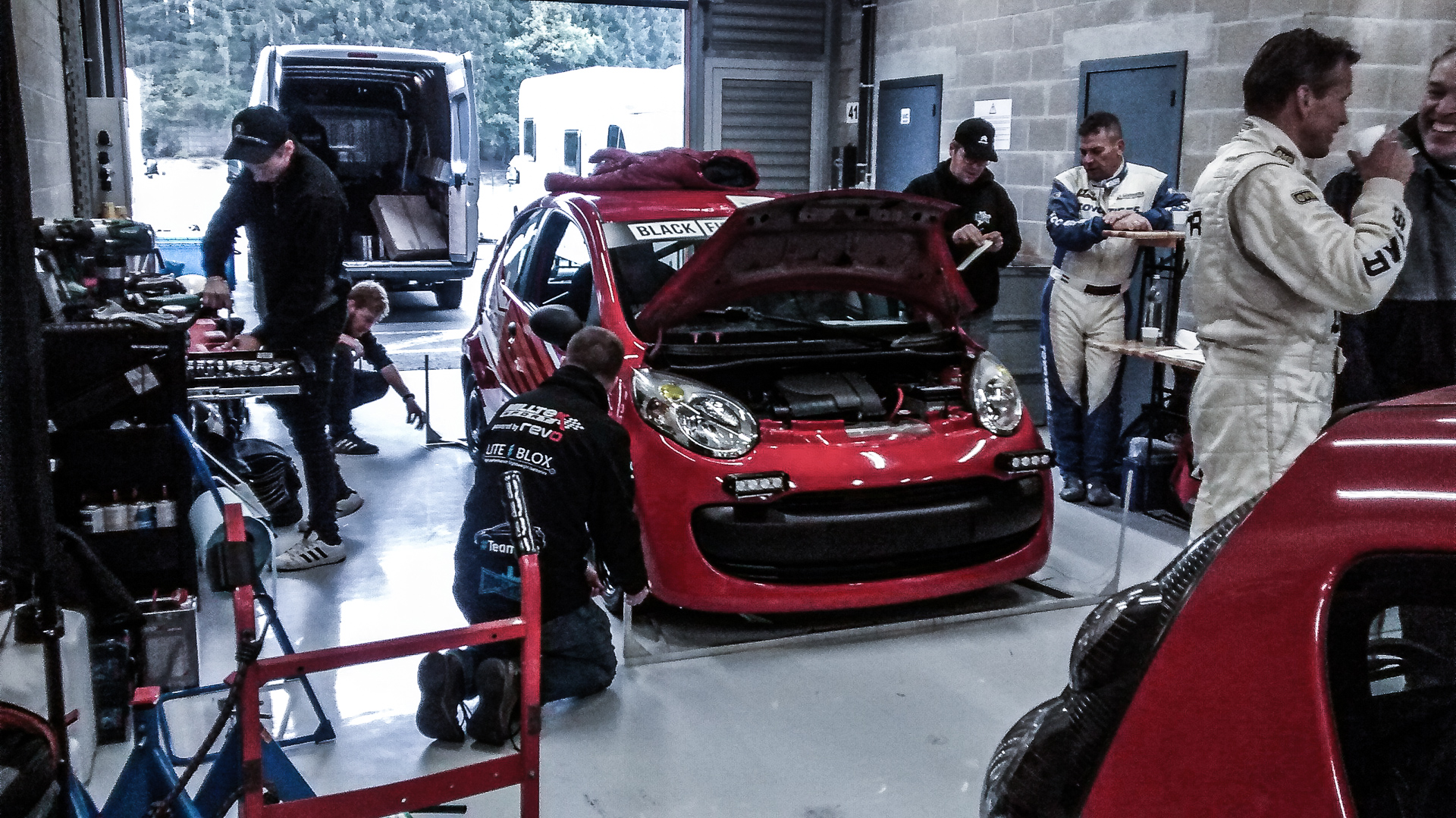 Yes, that's us aligning the car one more time after speaking to the other teams. All SIX other C1s were sharing one garage, and the sense of teamwork was amazing. Although we all wanted to win our class, we also wanted to get our C1s as far up the 73 car grid as possible.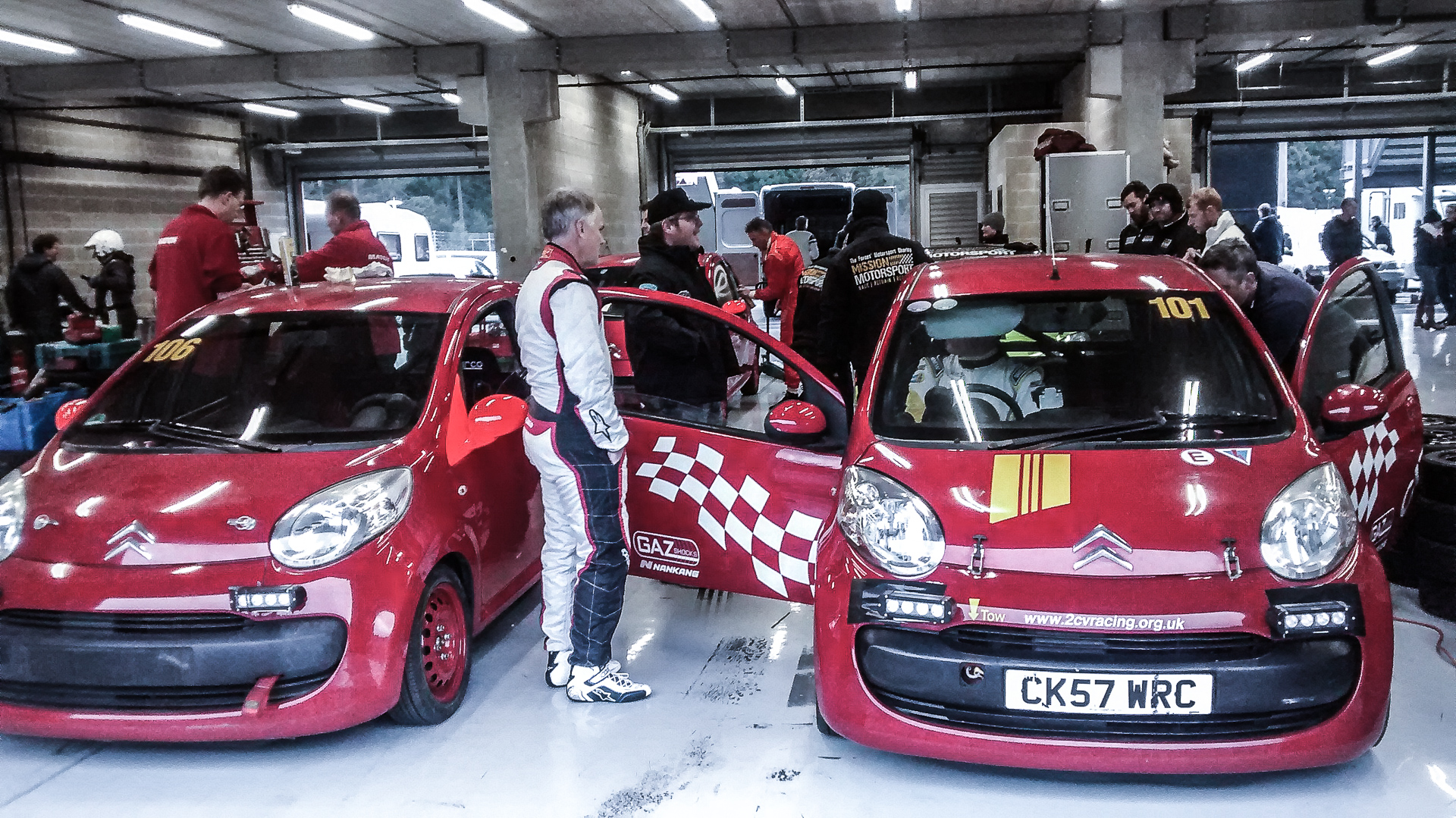 Match Racing from Holland were obviously going to be the guys to beat. Fielding two of their own cars, plus Meyrick's own personal beast (pictured on the right above) they had experience of testing and racing the C1 already. Decent guys, they always helped the rest of us. At times it felt like I was getting in the way, I had so many questions, but they always smiled and helped.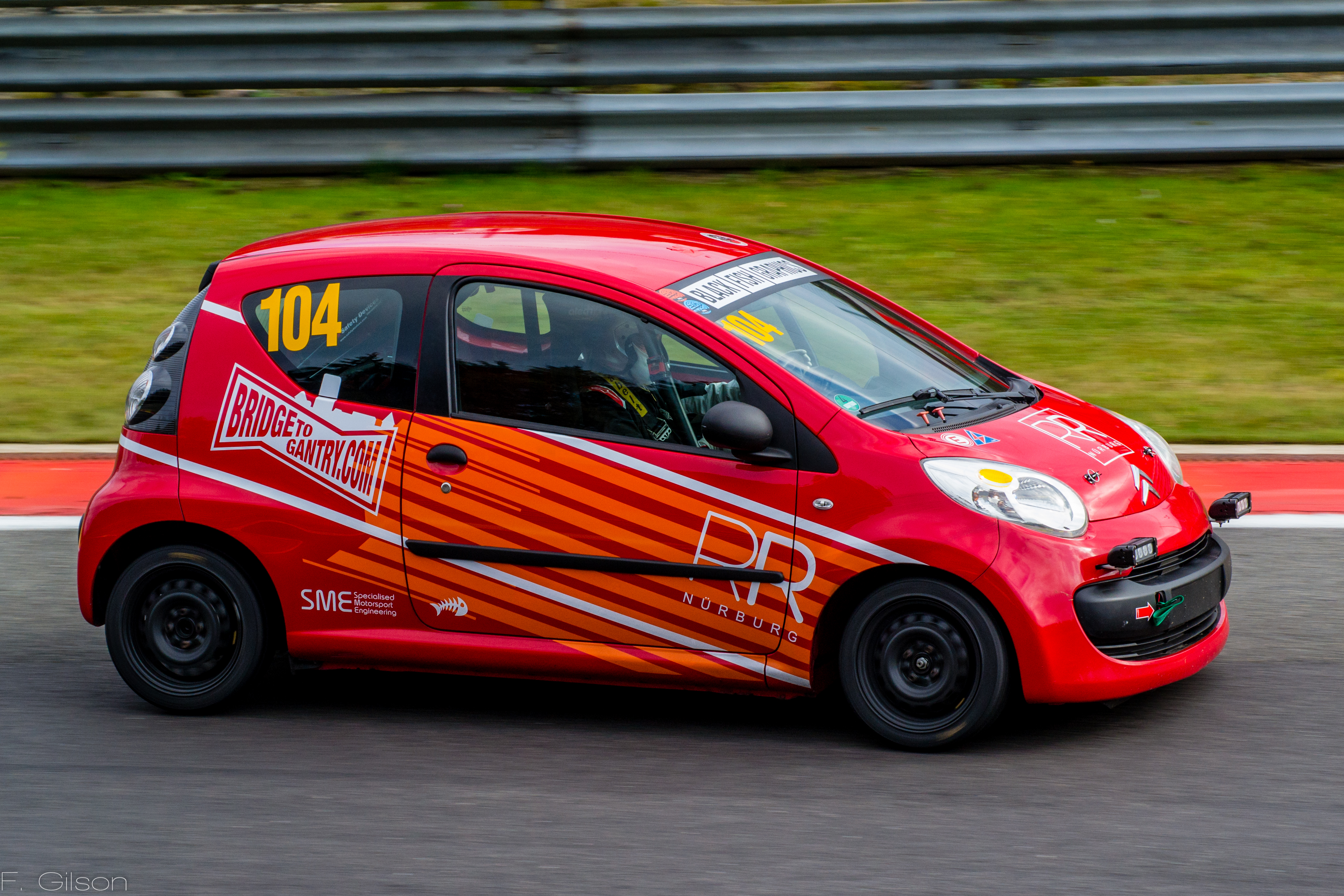 Our first laps of practice were simply incredible. For the first minute I wondered if the car was actually broken. The steering was so loose, the back just utterly lethal. The rear steps out of line constantly unless you're full gas and steering nicely. The Gaz suspension didn't work any miracles, but that's not surprising. And it wasn't too bad, because all had a handle on it within a couple of laps.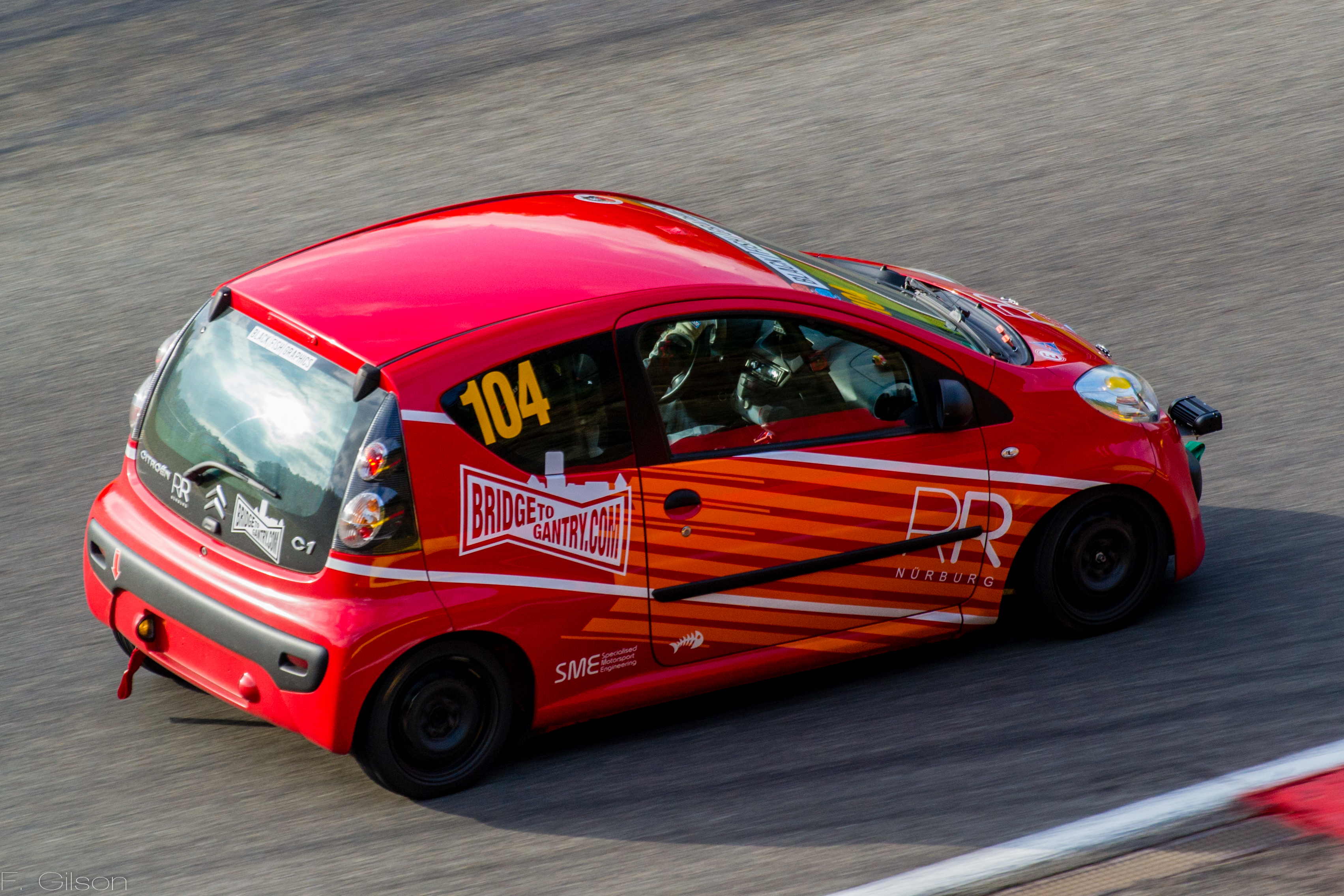 The car was slow, but not boring. Not at all. We'd opted for the 'safe' standard rear axle alignment, with a little bit of toe-in. Up front we had a little toe-out to promote quicker turn in. Meyrick's car was running with toe-out both front and back. The biggest surprise was the tyres…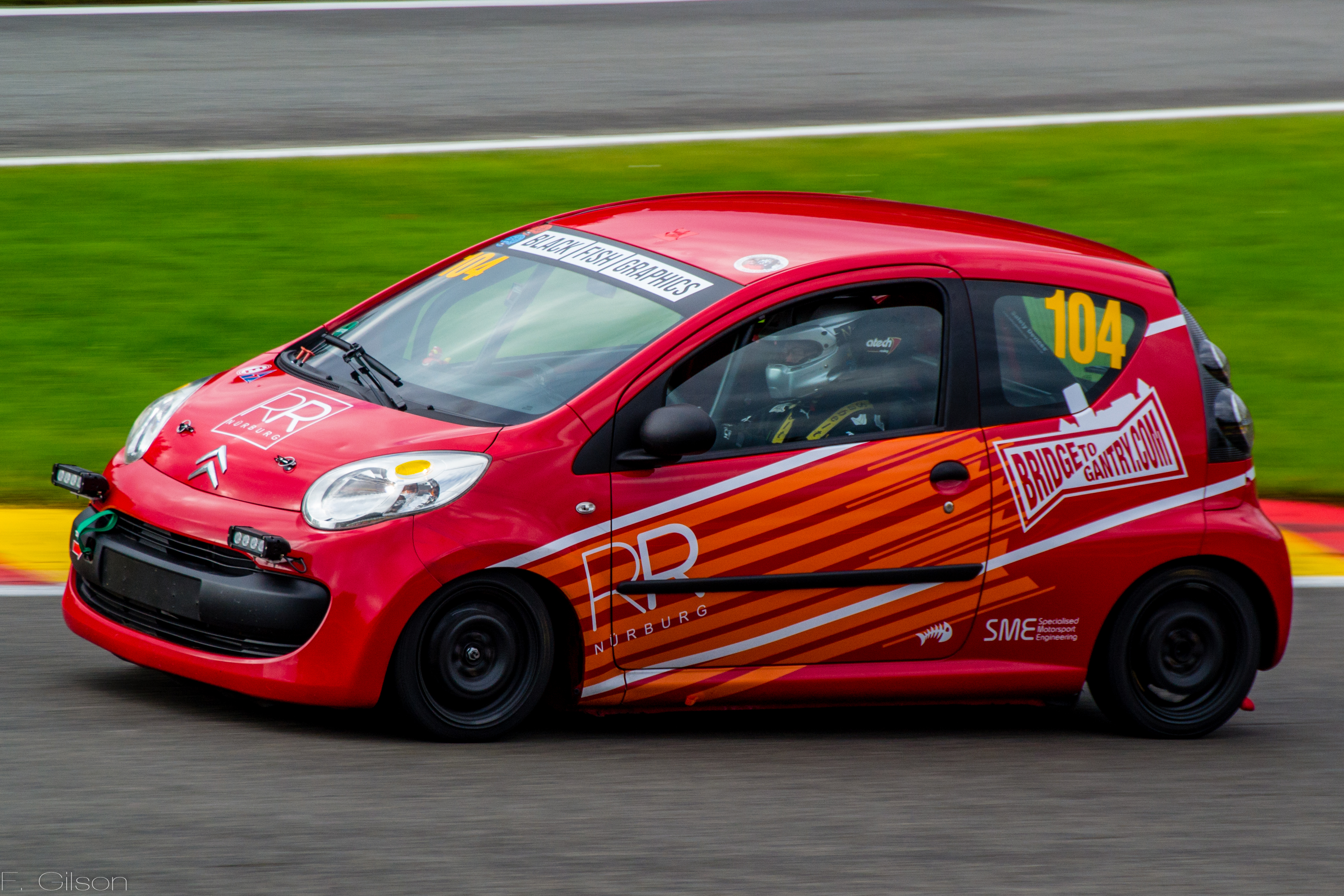 We'd noticed with apprehension that most teams had 'shaved' their Nankang AS1s. The reduced height of the tread blocks was going to give more grip and better feel, and halfway down the blocks a lot of the 'cosmetic' cuts disappear, meaning you've got more rubber on the ground.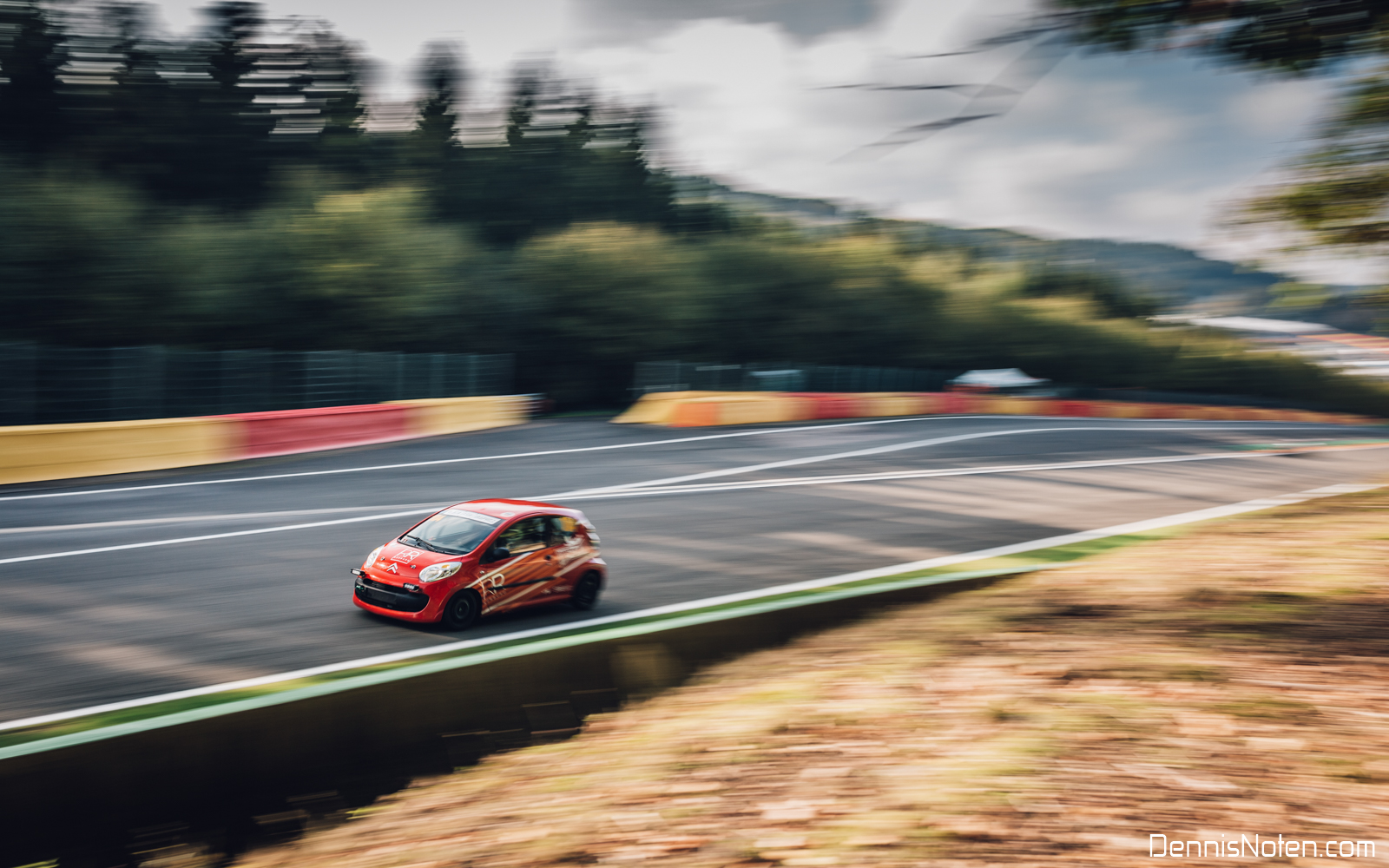 You can see below, the 2nd tread bar from the top is solid when they're shaved.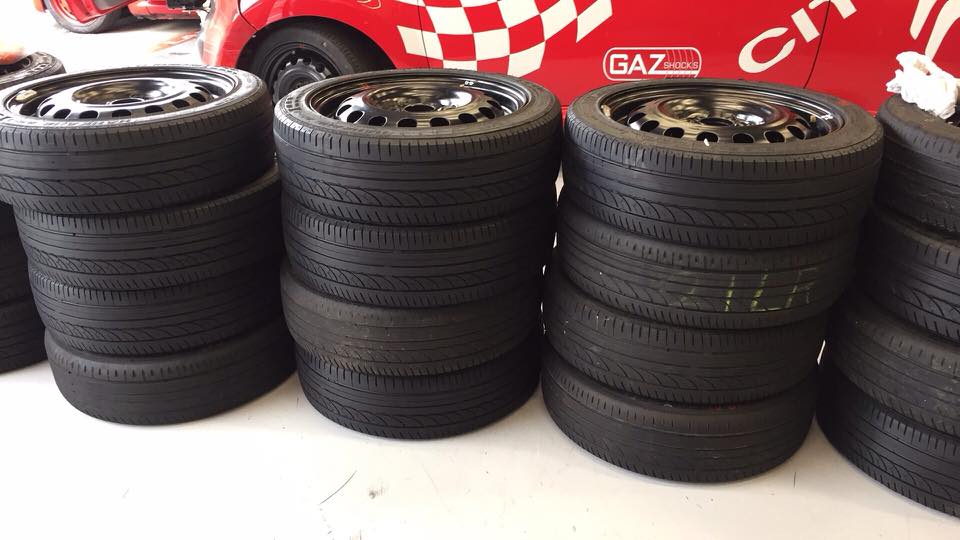 But as the day wore on, it got wetter and wetter. Until the evening qualifying session was full wet. All thoughts of 'shaved rubber' faded away…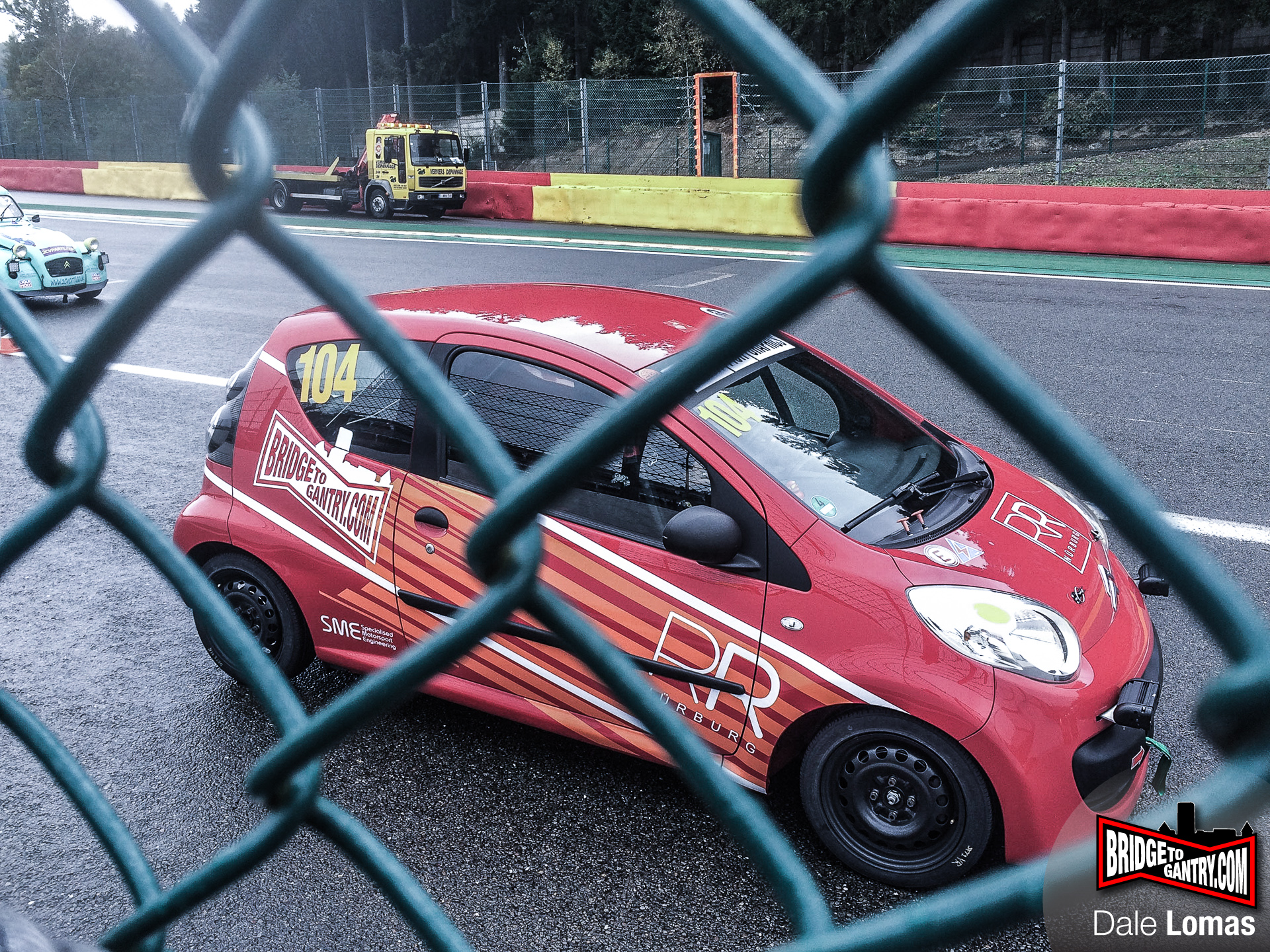 Like most teams our ABS refused to work, which made braking interesting. And braking in the wet very interesting indeed.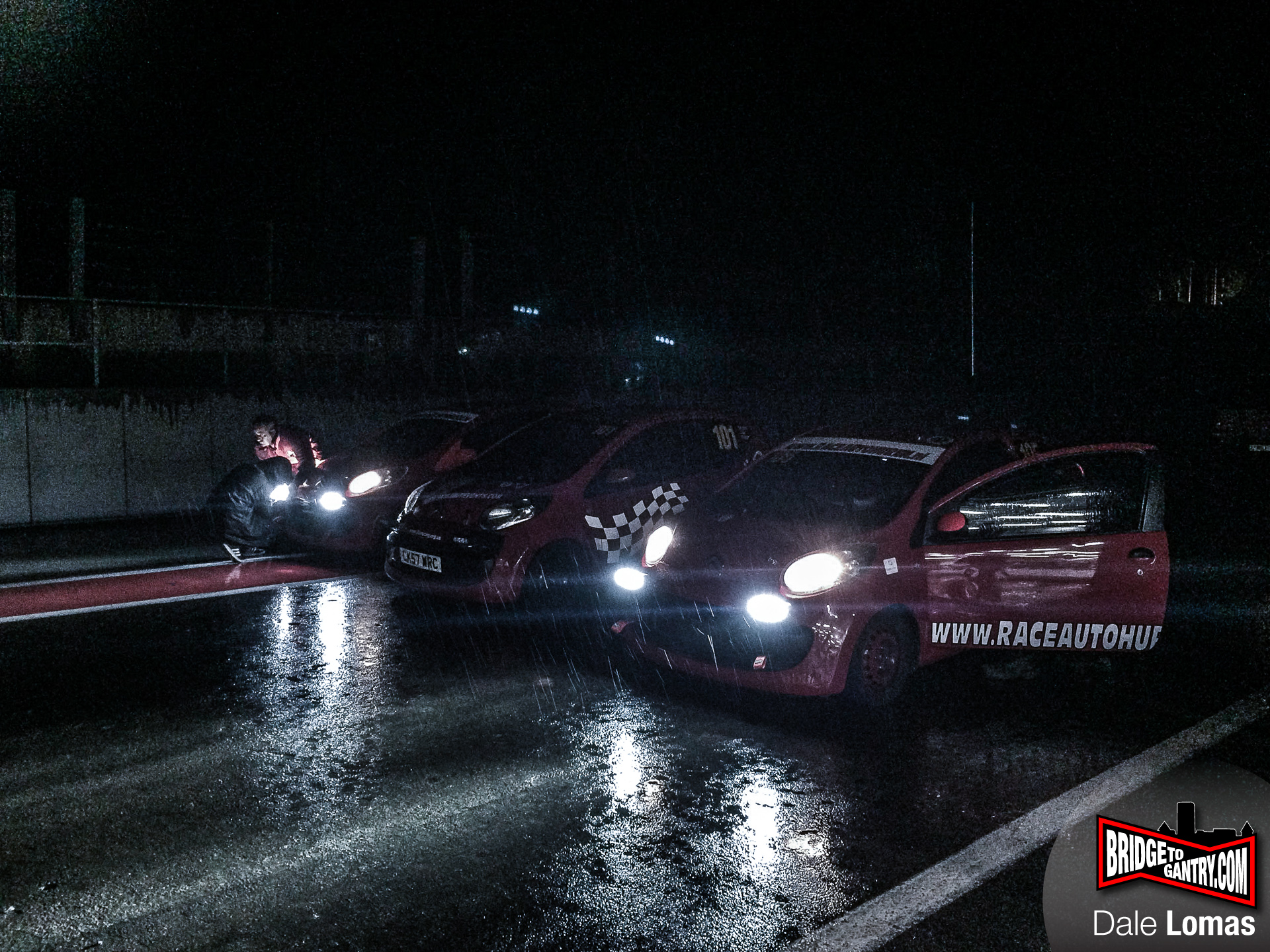 The night before the race, we all double-checked our lights, and made sure the cars were in tip-top condition.We were lucky, we didn't have that much to do. Thanks to the RR prep work, and SME's welding, our car had totally aced the Belgian scrutineering.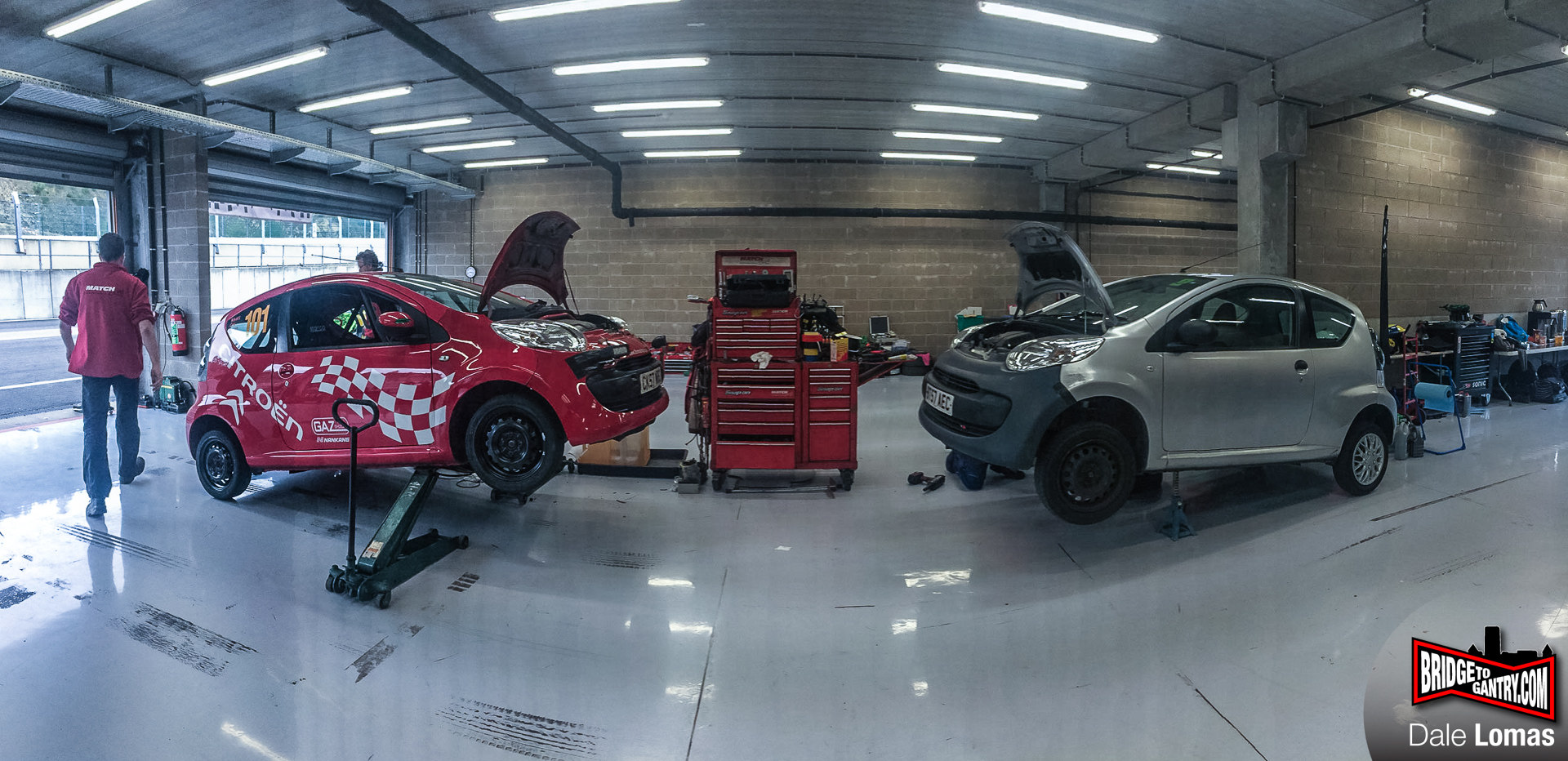 Match racing found themselves doing an engine swap after their drivers didn't understand that a battery light = no charging = no auxiliary belt = no water pump. Ouch.
But that's NOTHING compared to the living nightmare that enveloped the stripy Mission Motorsport machine….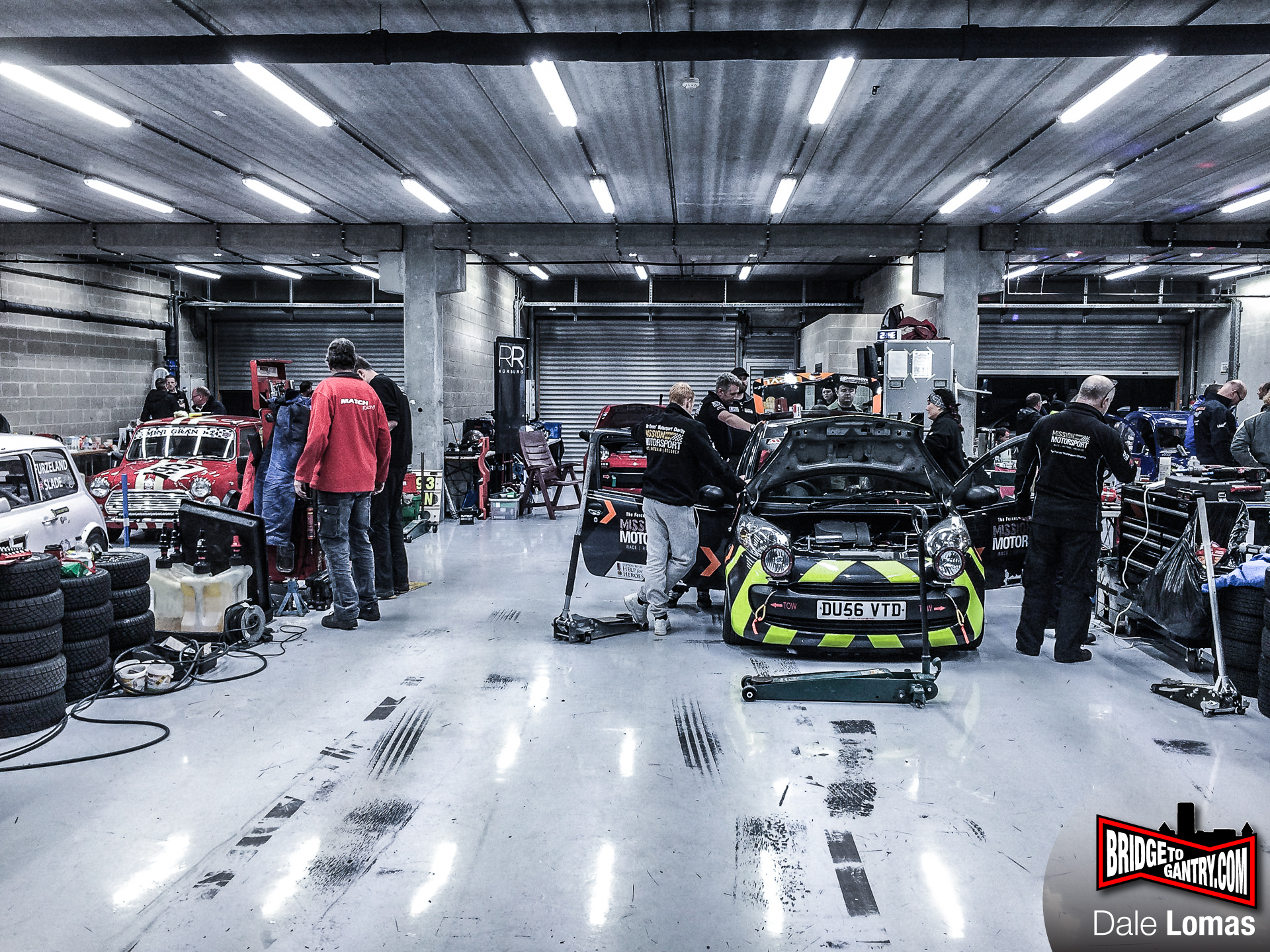 Mission Motorsport's self-built car had failed scrutineering. The cage wasn't up to standard, and had to be stripped out and re-welded because the sandwich plates for the rear of cage had been fitted the same side as the cage. As if that wasn't bad enough, their fire extinguisher then went off, which left the guys looking for a new bottle at 1am…. we couldn't really help, so we went to bed at La Source (and I don't mean the hotel),
RACE DAY
We didn't employ any great strategy in picking our starting driver, just random chance.
So it was Kai who was to make the start, and with the weather still crappy, we gave him and Kjetil (stint 2) the lion's share of the wet qualifying. I was gutted to be missing the experience of driving our 3-cylinder go-kart in the wet, but the boys needed it more than me.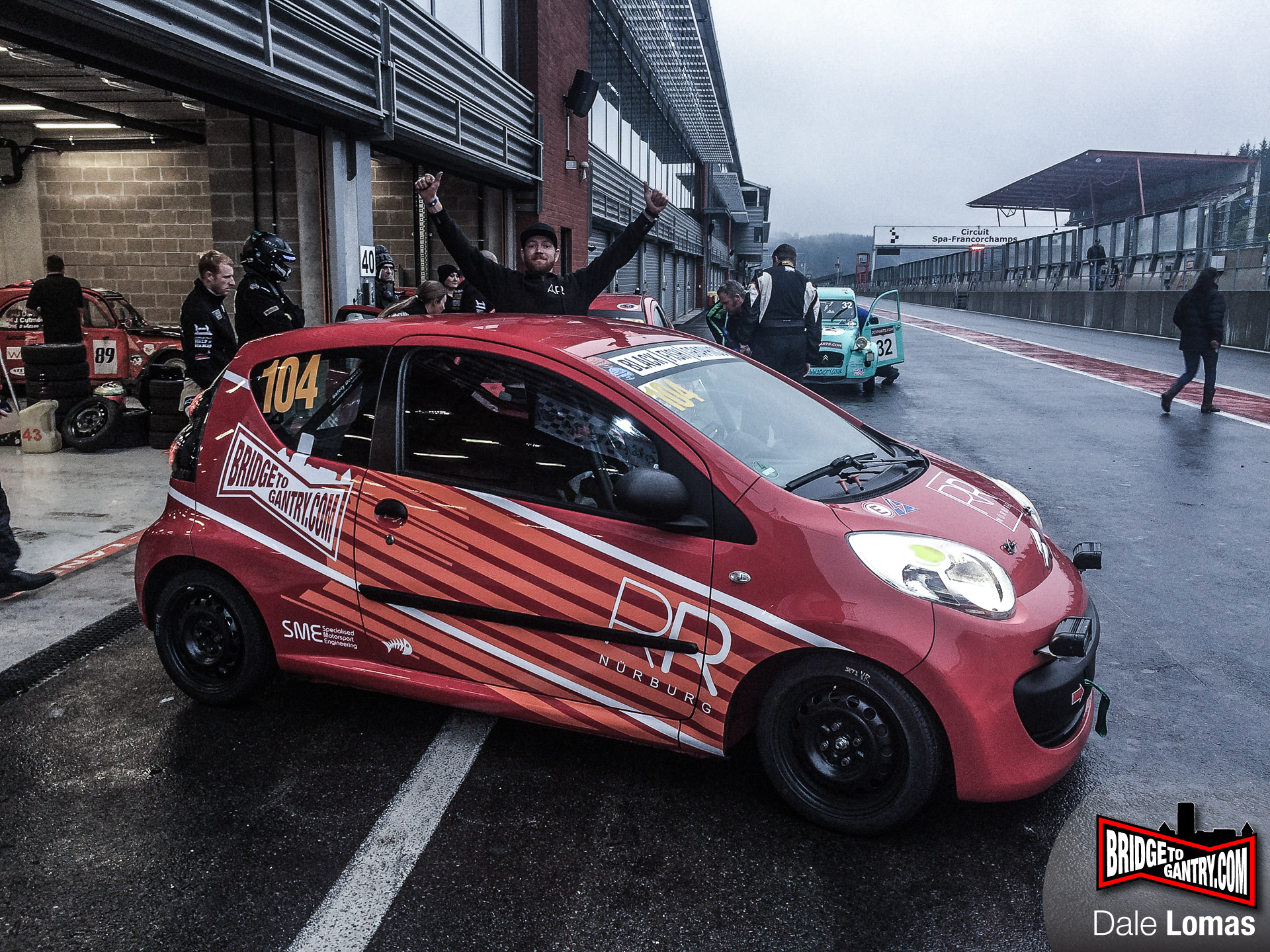 Qualification ended without incident (for us) and we were thrilled to finally line-up on the start line. Only 10 days earlier this little Citroën had been a single-owner-from-new commuter box. Now it was about to become a racing car, at one of the world's greatest F1 tracks.
After the world's most confusing driver's briefing the night before (held in Dutch, French and something that might have been English) we felt like we knew what was happening. First the 2CV owners were having their demo laps…
And then we were going to be making a formation lap, followed by a standing start. This seemed a very odd idea to us: the cars at the front would be launching at the heights of Kemel from a standing start. The cars at the back would be hitting it at full speed.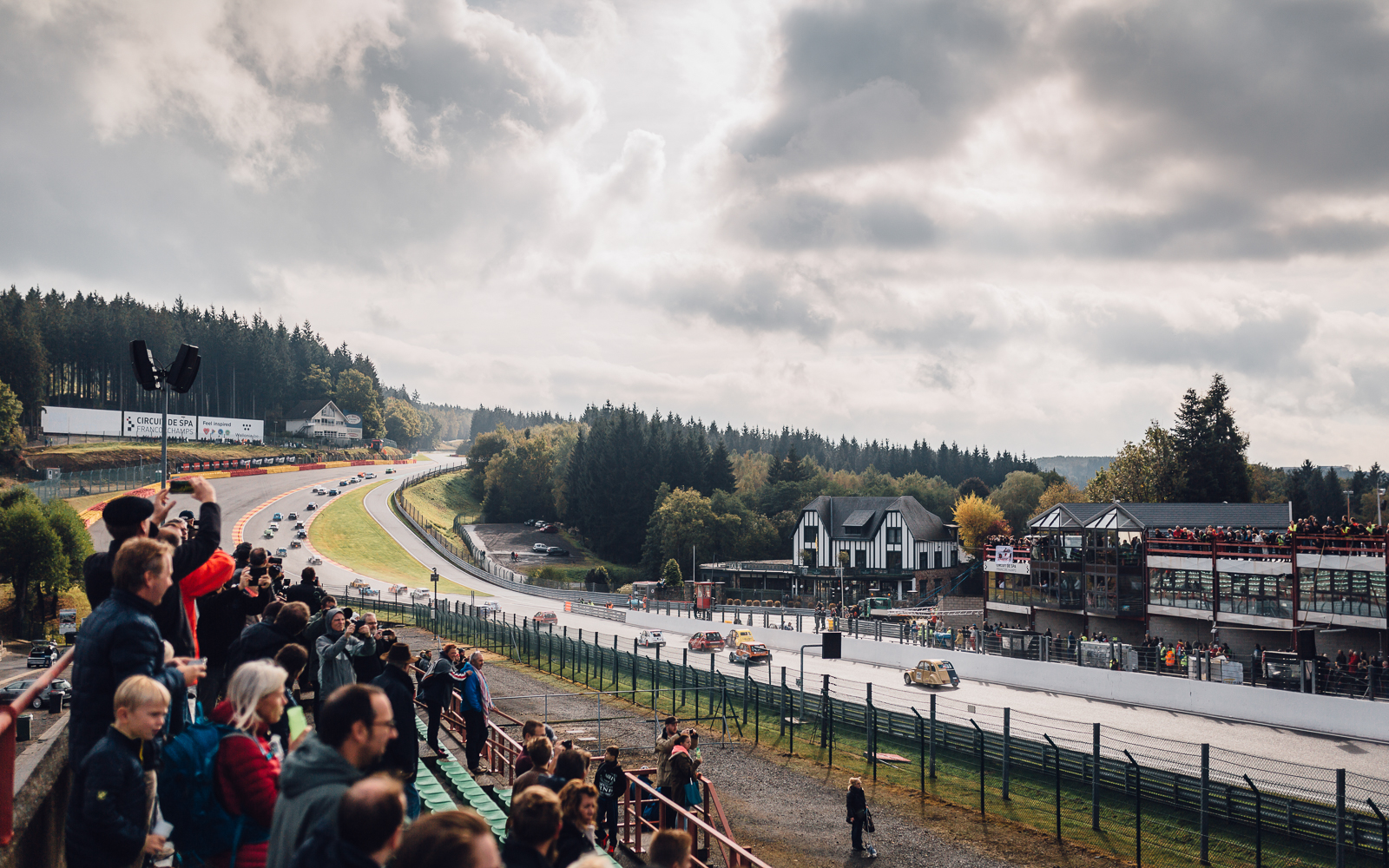 Obviously somebody else thought about this too. Because the race started from a rolling start. So much for briefings!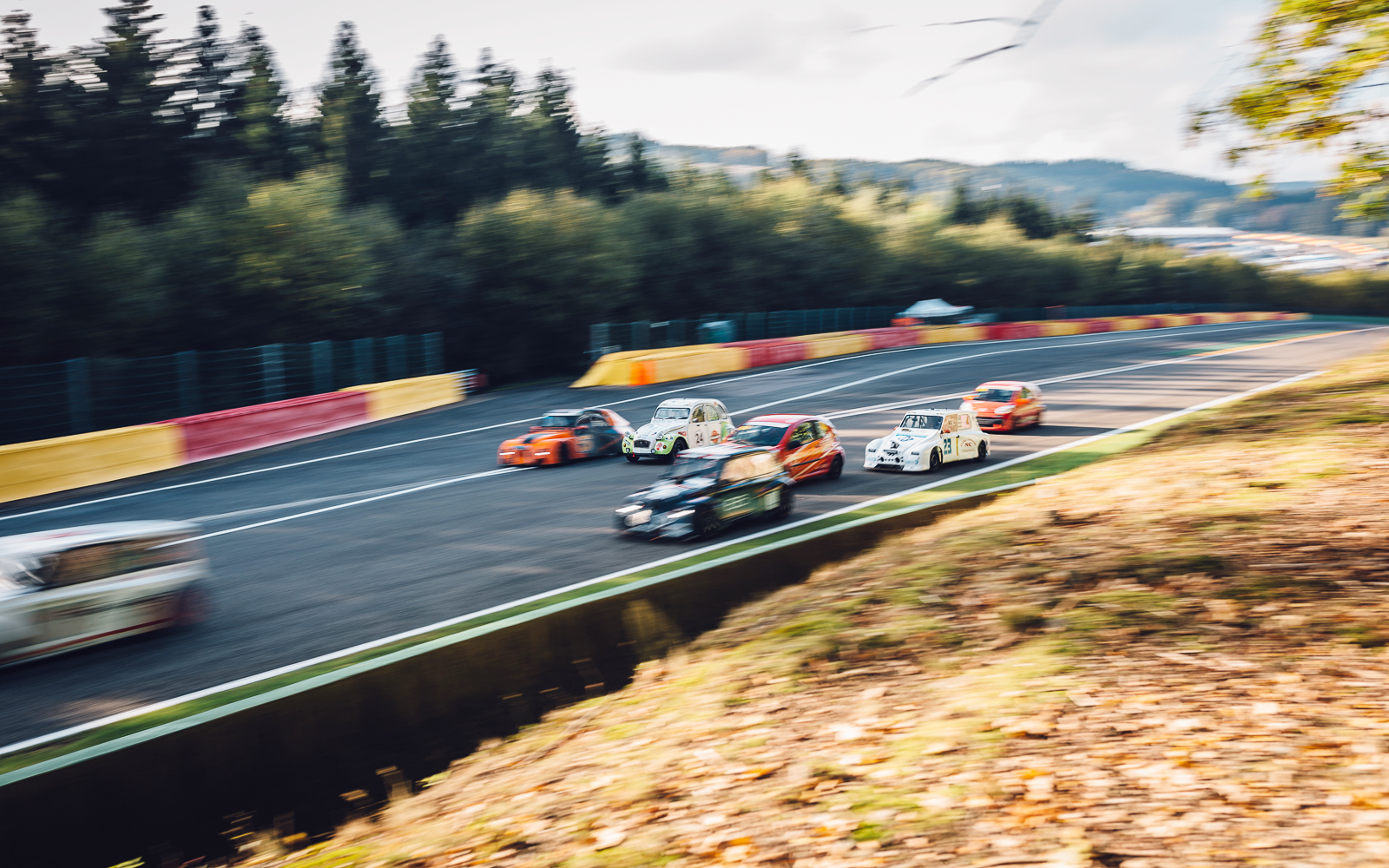 Kai only had one mission; no laptimes, no heroics, just get us through the first couple of hours in one piece. That's just what he did, starting lap 1 on P44 of 73 and bringing us to pit lane in P31!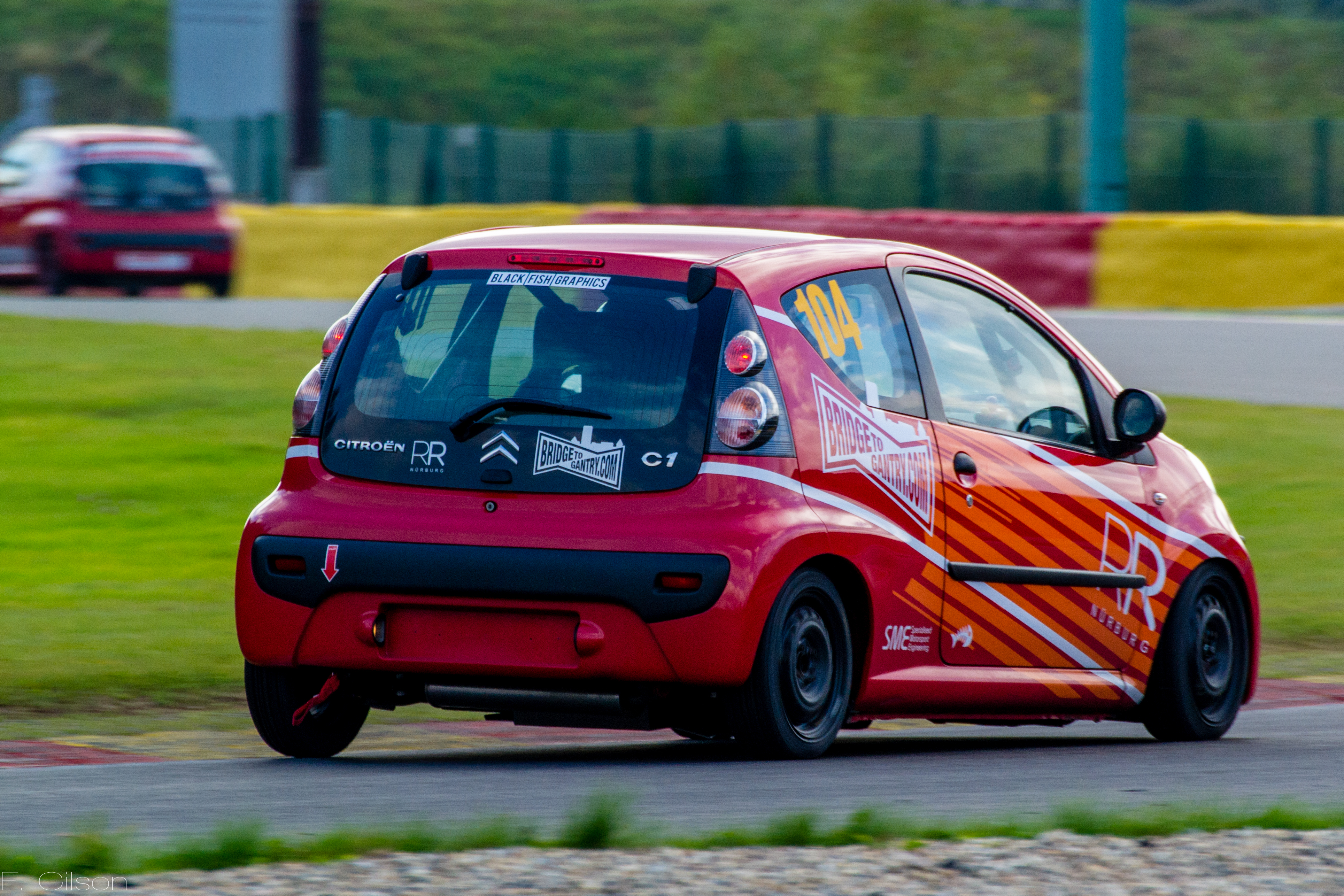 Amazingly, Kai had managed a staggering 38 laps of the Spa circuit before our nerve broke and we pitted him anyway. At which point our little car swallowed exactly 34.5 litres of fuel.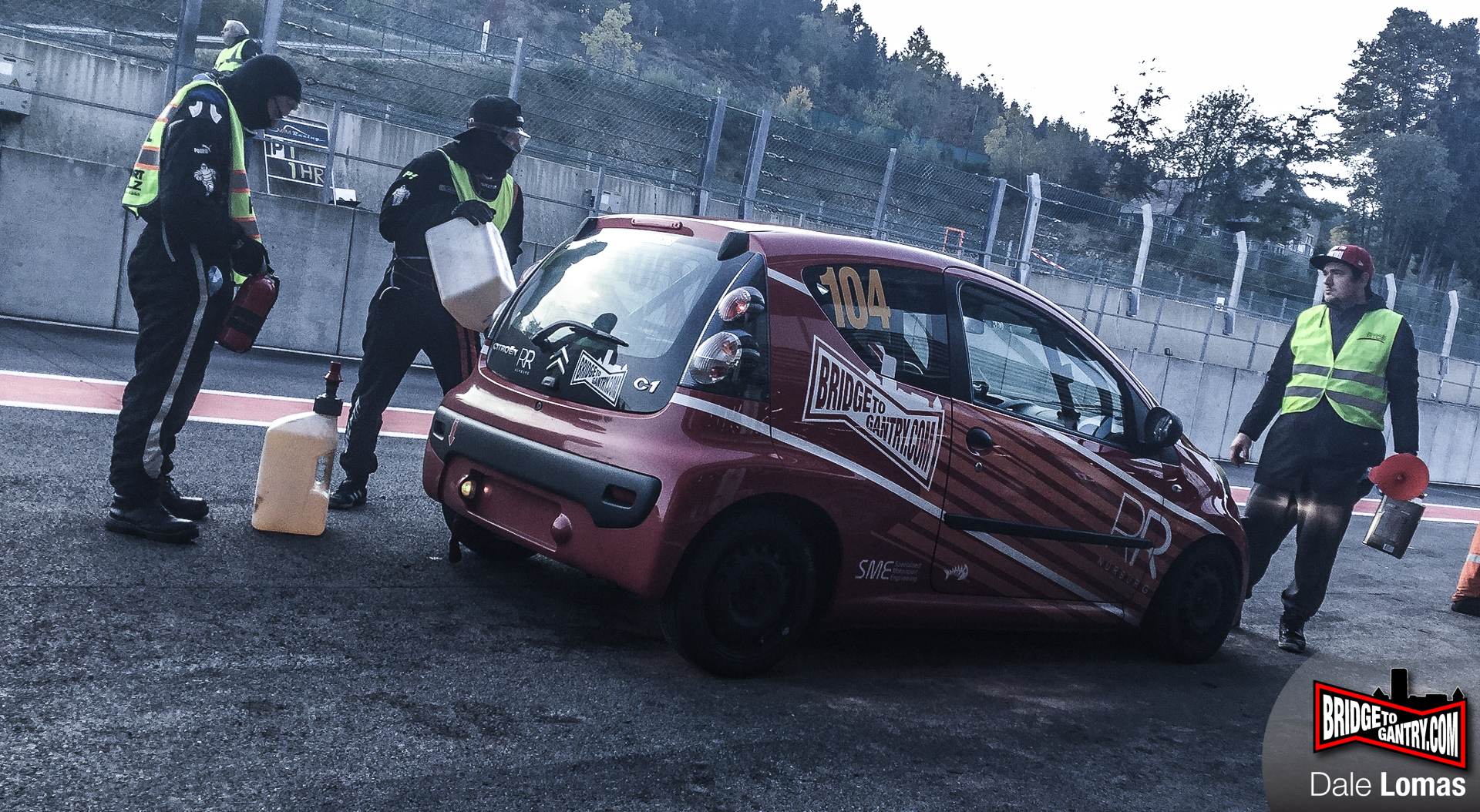 What was interesting was that our C1 has a 35-litre tank as standard. And after nearly 2.5 hours of running, we still had two bars on the fuel indicator! Every stop we were checking oil levels too, our 135,000km engine was drinking a little bit everytime. But as Kjetil remarked, our expensive 300V Motul 15/50w oil was so unworried by the temperatures of the little Toyota motor that it was like clear honey on the dip stick. Impossible to see. This would come back to haunt us later…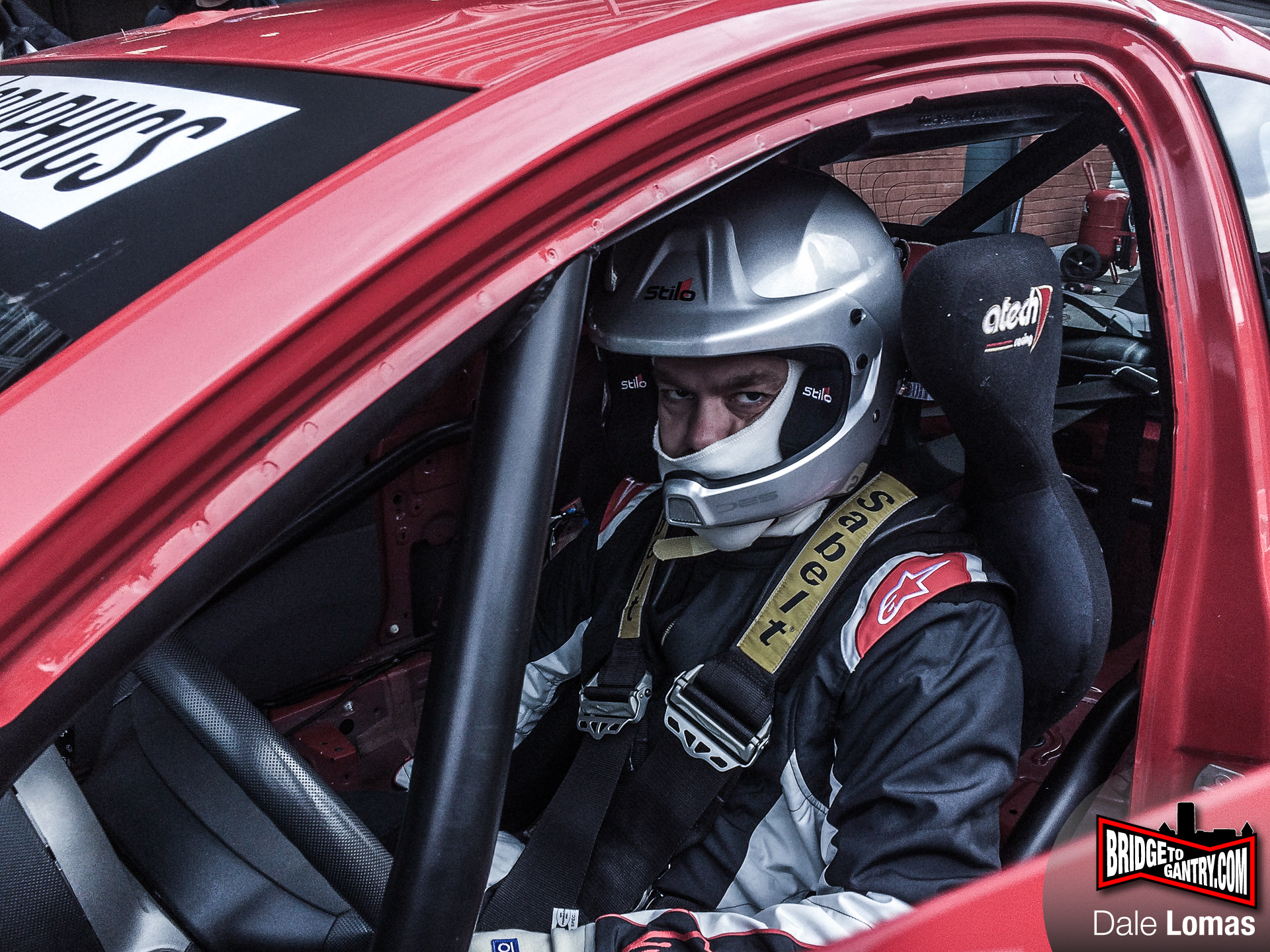 Next in the car was Kjetil, finally the other side of the pitwall, though rules prevented us from using radios. We wished him luck and sent him out for 2.5 hours behind the wheel.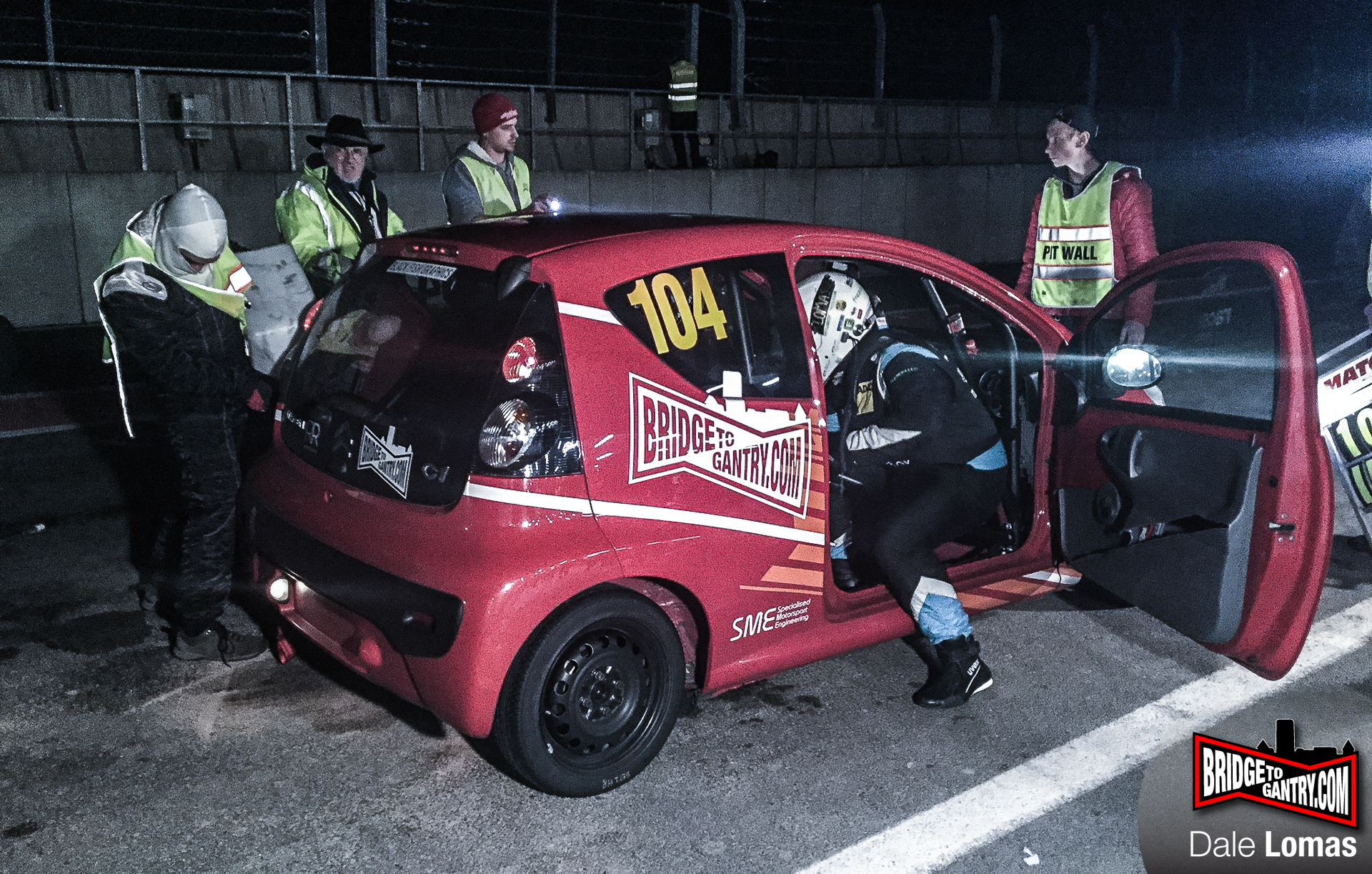 I took the twilight shift, well into the dark. Despite Kjetil's handy laptimes, we'd slipped down a little to P36. And don't forget, we're on the same 4 tyres that we started Friday's practice session on. As we drove them more and more, they only got faster! I was happy to play with gear choices and find the smoothest way to to the fastest lap and picking our way down to P32 at the same time. Then Johan jumped in after me, driving deep into the evening…
…and deep into the side of an errant classic 2CV that closed the door over Eau Rouge!
OOPS! Both cars escaped with only light damage, but we got docked a lap automatically. 2CV club rules are that if a faster car hits a slower car, it's the faster car's fault. That's a rule I like. So fair enough.
After Johan was out, it was Ali into the seat and he'd be upset if I didn't mention that he broke us into the 3m43s bracket.
Though to be honest, his stint wasn't entirely without incident either… when a red 'oil pressure light' illuminated! At first he thought it might be the red brake fluid light (which had been flickering for a few hours despite the resevoir being 75% full).
When he realised it was the oil pressure light, he brought the car gently home and we put 2.5 litres of our precious 300V in the motor.
We looked at each other, we accepted that the motor was probably dead. But we didn't have a spare. Oh well…
After that, it was the dead of the night, and somehow we were 12 hours through the race. How much longer could we last?
We swapped the tyres from back to front, and then put 2 new tyres on the back. Kai jumped in next, then Kjetil.
We went from P32 to P23 at best. Back in the pits, we helped the other Mission Motorsport car after it crashed the second time. We finally got to use our big red roll of Gaffa tape!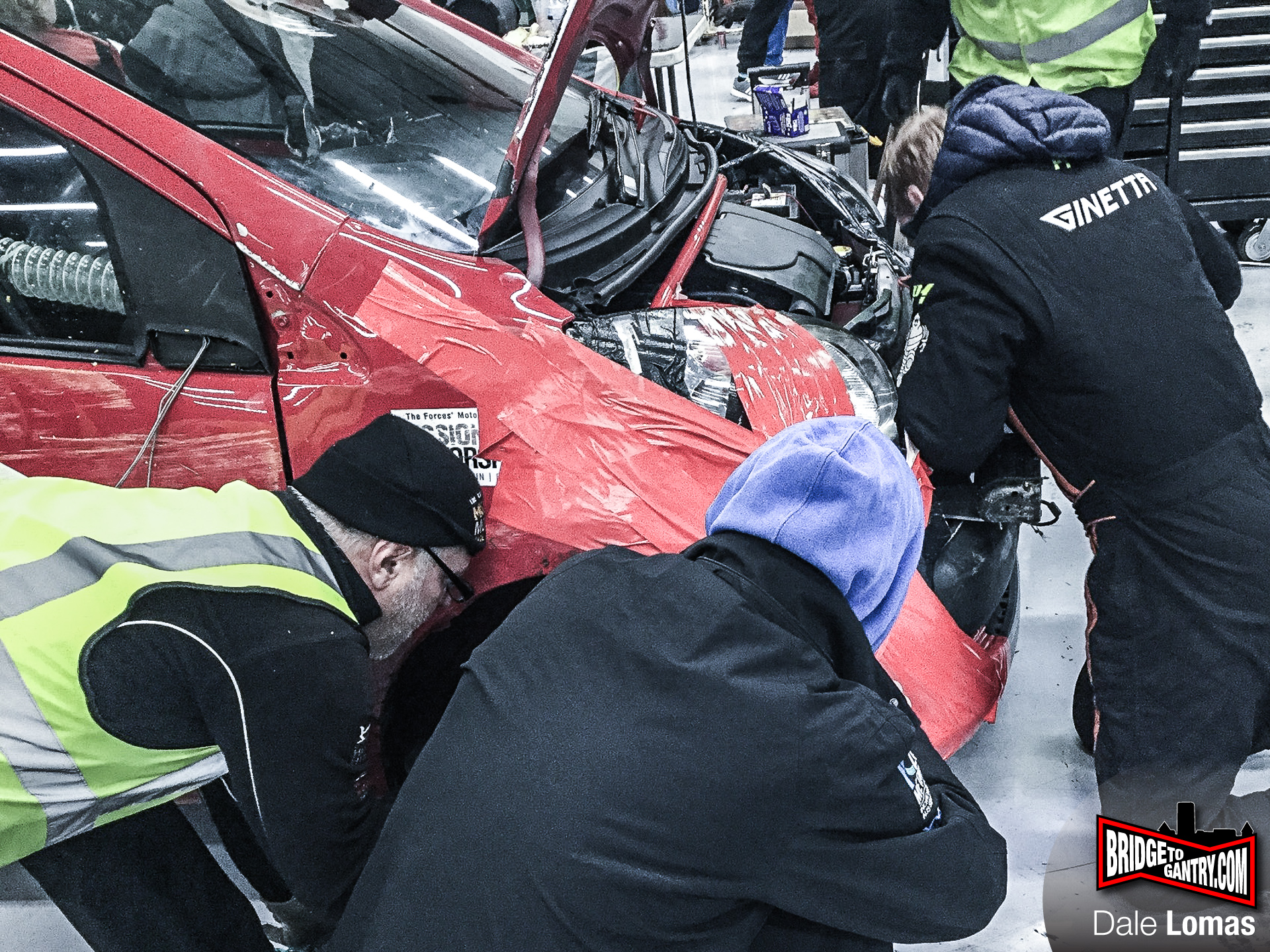 Before long, I was in the car again. The boys did a very quick pad change, with no special asbestos gloves. And it was still dark…
I was tired, I hadn't slept. I kept my self awake by filming a little explanation of what we were doing. The hardest hours were just before dawn though. My concentration was lacking, when all of a sudden, I saw the P3 car ahead. Yes, a chance to unlap us and a target to chase… 45 minutes later (!) I was close enough to turn on the camera again!
But I couldn't stay ahead at first, which gave me the chance to really try and better my performance…
This three-way C1-class Battle Royale was the result! As you can see, the car isn't easy to corner fast. There's fast, and there's fast. Sending it to the apex with the minimum of fuss and squeal was hard.
At the next pitstop we were out of 300V, and we managed to scrounge some supermarket-grade 10-40w oil instead, happy and amazed. that the little 3-pot was still buzzing away. Johan then got in, went fast, and didn't hit a single 2CV. And it seemed odd, but somehow it was nearly lunchtime and we were stuffing Ali into the car for the final stint!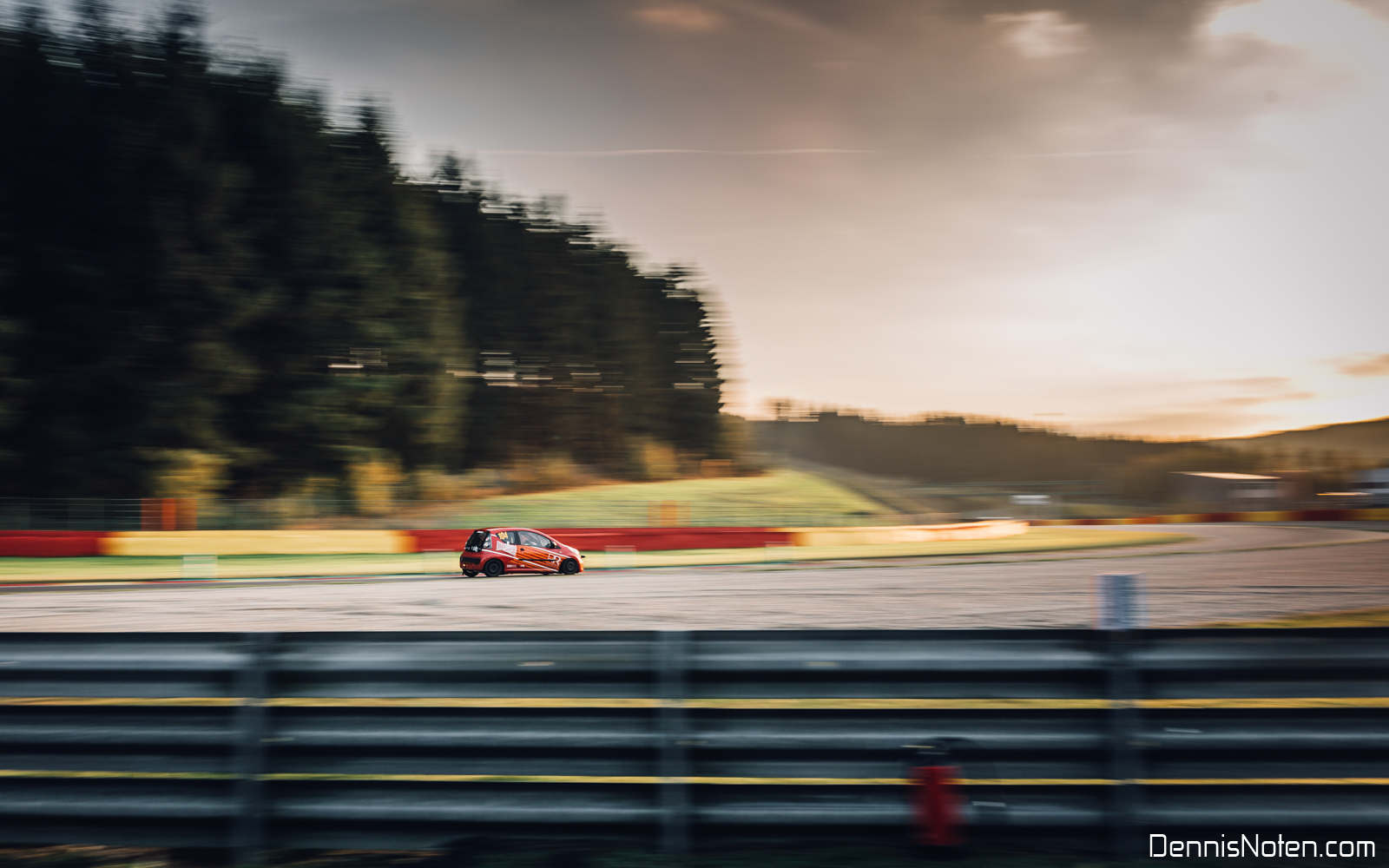 We were biting our nails, and poor Alister had the weight of 22.5 hours of racing on his shoulders as he went out into the pack. We were way too far behind to scoop 3rd place in class, five laps ahead of us.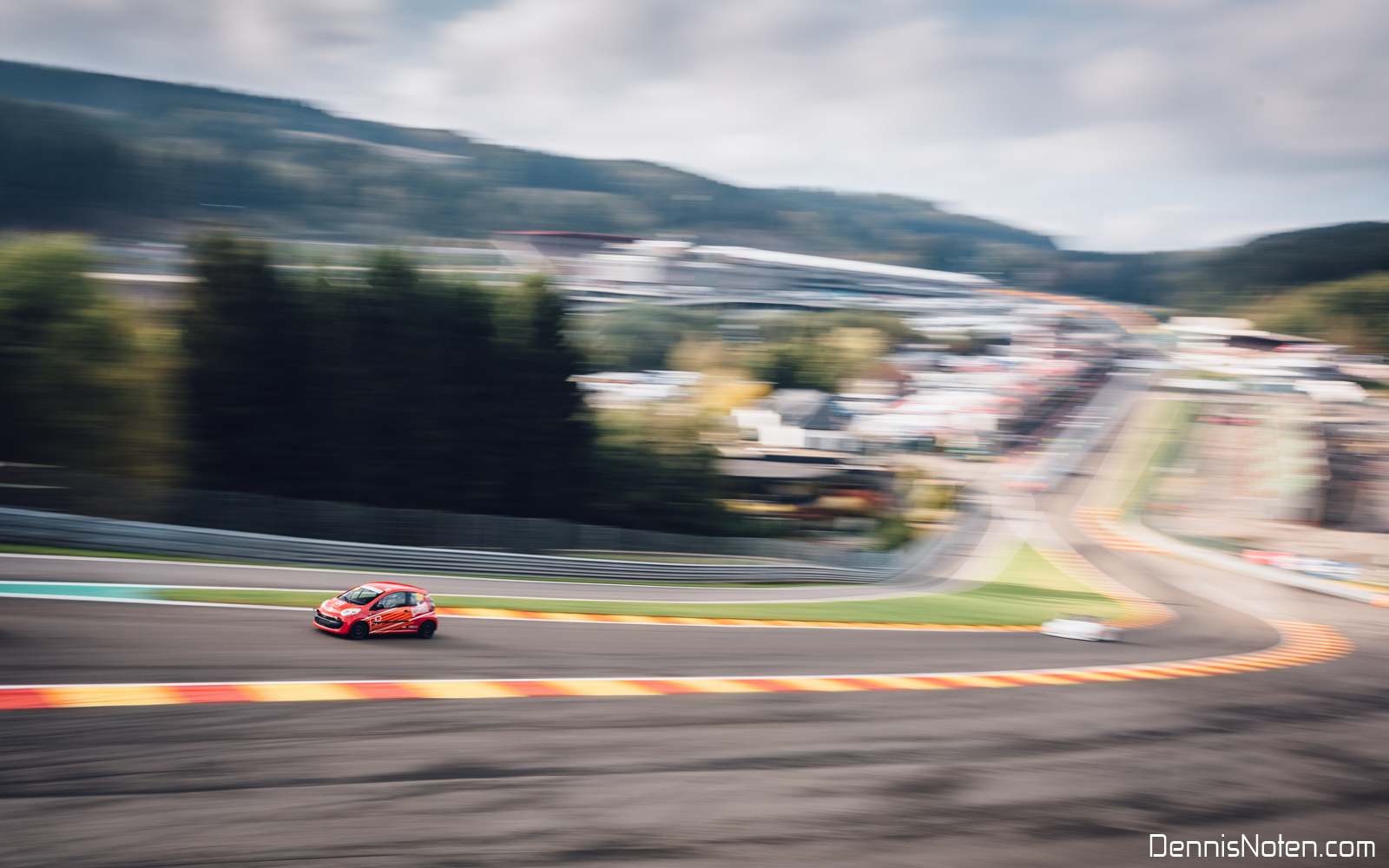 But we needn't have worried. While at the front Meyrick's "Team Rent Boys" car held off a last minute surge from the first Match Racing car, our P4 was in the bag. And we finally moved into p23 overall.
The numbers
P4 out of 6 in class
333 laps completed
3m39.6 best lap (class best was 3m37.1!)
6 tyres driven all race.
2 tyres worn out 'dead'
2 lightly conditioned tyres, ready for another start and 6-8 hours.
One pad change (using OEM €26 Textar brand pads) and actually, we could have got away with no pad change in hindsight!
Approximately 320 litres of fuel burnt
10 litres of oil burnt
EPILOGUE
This was, without a doubt, some of the best and most fun grassroots racing we've ever done. We've already been invited to a 1000km race in Anglesey, and we're planning the next season. If you want to build your own C1 racer and join us, start looking for your donor car now!
The club, which we're still forming right now, is ordering more cages and more suspension kits, so we'll be ready to help convert your car. Get your race license ordered and prepare for some epic events in 2017!
WE COULDN'T HAVE DONE IT WITHOUT YOU:
Markus and Ali at Racers Retreat for finding time and space to build our car and build our pits • Inne and Michael at StickerDump/Black Fish Graphics for designing and applying our vinyls AND THEN cancelling a show attendance instead to cook us bacon and egg sandwiches and become our pitcrew! • Nanolex for their amazing ceramic coating, which was like putting a Tiffany's necklace on a pig • Tom Westendorp for delivering our second batch of tyres • My friends who helped us with this bad idea • Meyrick for sorting our paperwork and 'enabling' our bad behaviour 
https://c1racing.club/wp-content/uploads/2017/11/Club_Logo_Red_Black_300x137-300x137.jpg
0
0
coxm
https://c1racing.club/wp-content/uploads/2017/11/Club_Logo_Red_Black_300x137-300x137.jpg
coxm
2016-10-18 13:48:00
2018-10-21 13:52:26
Bridge to Gantry – Spa 24 hour 2016 – 18th October 2016