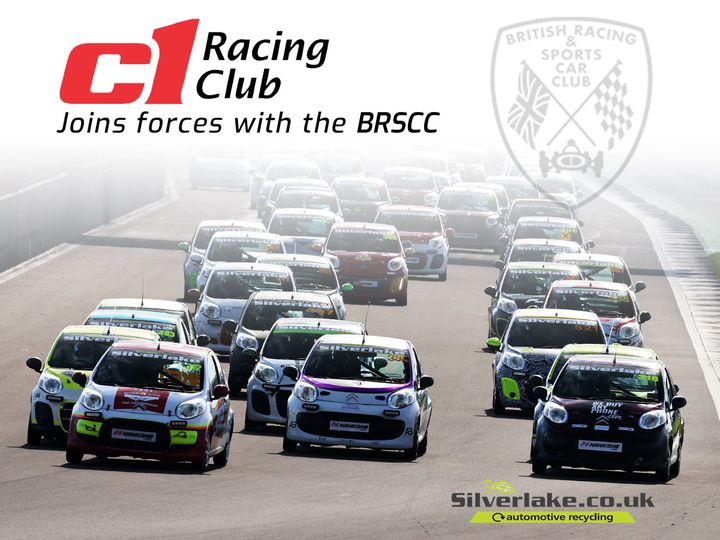 The BRSCC and the
Silverlake Garage – Motor Salvage Ltd
C1 Racing Club
are delighted to announce an agreement for the C1 endurance racing programme to be hosted by the BRSCC from the 2022 season onwards. Both parties view this new partnership as an exciting opportunity to further develop the hugely popular race series, and to deliver the best racing and support package possible to C1 Racing Club competitors.
On announcing the new partnership, C1 Racing Club owner Robin Welsh said,
"I'd firstly like to thank everyone at BARC for the support and assistance given to me since I took ownership of the C1 Racing Club, and also for their commitment to the previous owners. I wish them all the very best for the future.
Paul McErlean (the BRSCC's Chief Operating Officer) has been a friend for many years, and I've also worked closely with Greg Graham (BRSCC's Head of Formula Development) on racing projects over a number of years too, however, aside from these relationships I've been greatly impressed by the way the BRSCC have developed over the past few years, and I'm confident that they can assist me in giving C1 Club members the best levels of support and service going forward".
Commenting on the release of the news, Paul McErlean said, "I'm delighted that Robin has made this decision, as both of us have very similar views when it comes to providing the best levels of customer support and service. The BRSCC have a long history of delivering successful endurance and 24hr race events, and I believe that this new partnership with the C1 Racing Club will enhance and grow what is already a very successful and popular series.
The BRSCC and BARC have a great working relationship, and whilst we both focus on developing our portfolios with as little conflict as possible, we accept that movement of independently owned race formulae between clubs is a fairly normal situation. BARC have done a great job assisting the development of C1 endurance racing in the UK, and the BRSCC look forward to continuing that progress for the benefit of all involved".
The 2022 race calendar is already being planned, and C1 Racing Club and BRSCC look forward to sharing more details soon.
https://c1racing.club/wp-content/uploads/2017/11/Club_Logo_Red_Black_300x137-300x137.jpg
0
0
Thorlak Hallett
https://c1racing.club/wp-content/uploads/2017/11/Club_Logo_Red_Black_300x137-300x137.jpg
Thorlak Hallett
2021-09-02 20:33:22
2021-09-03 13:29:56
BRSCC & C1 RACING CLUB JOIN FORCES FOR 2022 SEASON AND BEYOND