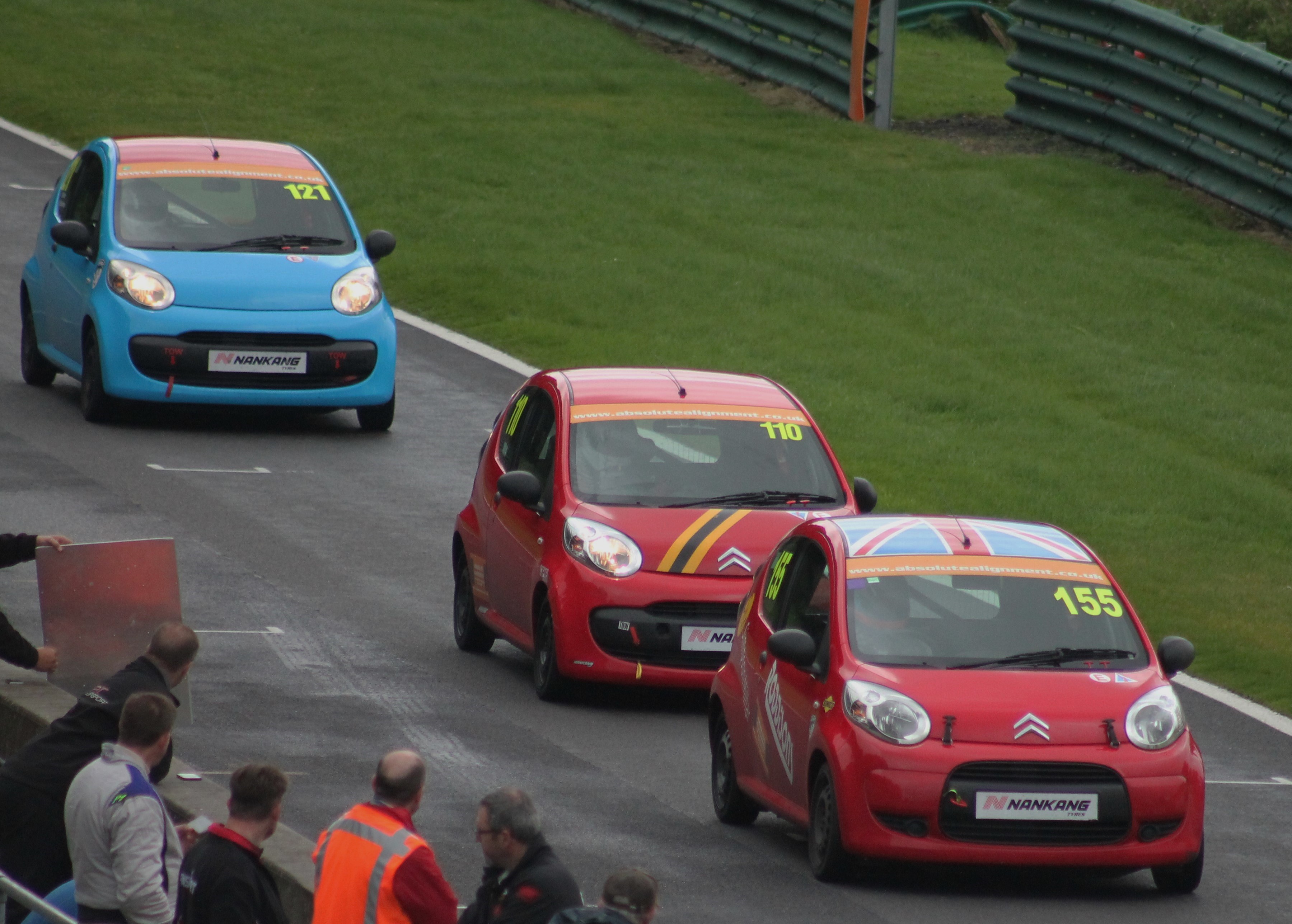 TEAM LMPC1 TAKE SECOND WIN OF THE SEASON
The LMPC1 trio of Jacques Jensen, Aaron Bailey and Chris Davison took their second win of the season in the Absolute Alignment Citroen C1 Challenge at Cadwell Park, after a safety car intervention gained them a lap.
14 cars made it to the Lincolnshire Wolds circuit, with the Scuderia Sundial car of Andrew Stacey/Grant Hatfield/Paul Roddison securing pole, with Willow Racing's Caryl Wills/Ben Anderson/Paul Rowland and Rent Boys Racing Philip Myatt/Nick Paton all covered by only 0.574s.
As the race got away poleman Stacey led the way from Chris Davison for LMPC1 and Ian Payne's PT Sportscars, while Neil Garner's NGM Sport car began to work through the order. Having demoted Willow Racing's Anderson and Scuderia Pollo's James Matthews on consecutive laps, he was into fourth, before Anderson and C'est La Vie's Robin Welsh both demoted him again.
The safety car was soon in action though when the Bend it mend it squad's Mark Theaker got onto the grass exiting the Hairpin and collected Nick Paton's Rent Boys Car. They both continued until Theaker was off again at the Mountain, hitting Paton who was spun and collected by C1 want one's Tim Storrar.
The safety car laps to clear the incident triggered a few early stops including the leader. "We anticipated the safety car but jumped the gun and rather than gain a lap we lost one," Stacey explained. The safety car had waited for the leader, but as they pitted there was confusion and Davison gained as the new leader.
After one hour Team LMPC1 were clear by a lap, from PT Sportscars, with Sundial third and Old Hat, Willow Racing and NGM Sport the early top six.
The lead remained unchanged until lap 35 when Davison pitted to hand to Jensen, when Sundial took charge again, before their second stop.
The strategies were varied on the best time to stop, but after Stacey had handed to Hatfield, Anderson took charge until Willow Racing made their first stop at the 41 lap mark to hand to Caryl Wills. "When I was asked to race in the C1, I thought why? So I didn't expect too much and I have been pleasantly surprised. It felt a bit like a go kart rental and Cadwell is my favourite circuit too," said the Autosport Grand Prix editor.
So at half distance LMPC1 and Scuderia Sundial were both on the same lap, with both PT Sportscars and NGM Sport one lap down.
In fifth C'est La Vie headed The Bend it and Mend it squad and Willow Racing that had gone two laps down, followed by Scuderia Pollo Rosso, Old Hat Motorsport, Advantec Endurance, Team Bengineering and finally McAttack Racing who started an hour adrift after a gearbox change.
Having led from the 48th lap, Team LMPC1 had a lap of almost everyone from the 64th to the finish, apart from a few laps during their final stop for Bailey to bring it home. "We thought we might have to change tyres but it was the kerbs that did the damage and we were good. So we just took a fuel and I maintained the gap," said Bailey.
Pollo Rosso's James Matthews had just missed being involved in the early shunt, but having alternated with Frank Claydon who took the car to the finish, they were second after three hours. But they still had a stop to make which eventually dropped them to fifth.
Sundial were a strong second but had a late duel with NGMsport. "I did the last 1 ½ hrs and it was a great battle. I was defending and he got the run on me into Park, but he made a few mistakes so I got back through Barn two laps later," said Roddison.
"We had a great day, I started and pitted early behind the safety car to use one of the stops. Then Peter Fisk went in for another hour, stopped refuelled and handed to Will Rayson to finish, but he outbraked himself in the battle for second, touched the barrier and still finished third," said NGM's Neil Garner.
Despite their earlier incidents the Bend it and Mend squad were fourth with Steve Atkinson, Nick Dougill and Craig Deakin taking over from Theaker. C'est La Vie were sixth behind Pollo Rosso, "Jonathan Cool had a spin after the first hour and I had a puncture, but it was James Macintyre-Ure that got the track limit penalty, "said co-driver Paul Dickinson.
Willow Racing came in seventh, with 2CV driver and championship winning rally navigator Paul Rowland taking the third stint.
Tom and Callum Hutchings Old Hat Racing were next, "that was my first ever race start and we are sharing the helmet too," said Callum. "Loved it though, great fun," Tom added.
Advantec Endurance came home ninth, with Sean Whatley and Matthew O'Hare and PT Sportscars completed the top 10 with Rich Bernard and Mark Benson. "We lost a lot of time on a refuel stop and Ian Payne got hit during his stint, a real endurance though," they reckoned.
Although Ben and Karen Atkinson didn't take the flag, they were classified 11th. "Five minutes to go and I ran out of talent and went off at Park. I just got back on but had no drive," Karen explained,
McAttack's perseverance took them to the finish too in 12th, with Simon Walker-Hansell, Chris Nylan and Dave Whitmore sharing the driving. "As well as the gearbox problem, someone had to go to Rockingham to take the seat out of Dave's BMW Compact , as he is an ex Rugby League player and wouldn't fit in ours," said team boss Declan McDonnell.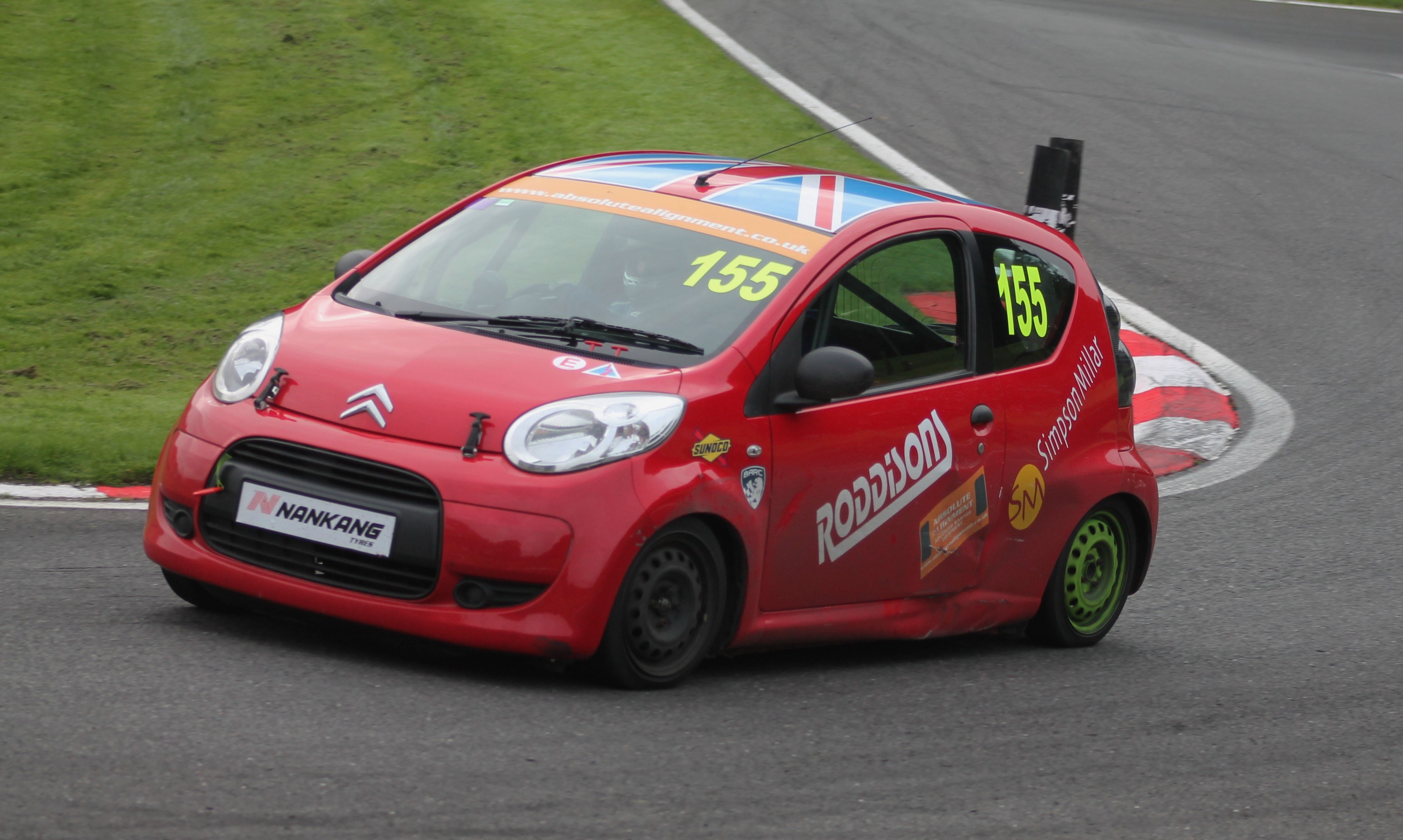 RACE TWO
For Sunday's two hour race, we had lost LMPC1, NGM Sport and Rent Boys, but gained Maximum Effort's Matt Owen and Mission Motorsport's Ben Norfolk, Basil Rawlinson and Joe Byrne for another 14 car grid.
Stacey had the initial lead for Sundial from Bend it and Mend its Atkinson and Pollo Rosso's Matthews, until Macintyre-Ure began to carve his way through for C'est La Vie.
Within five laps Macintyre-Ure had the lead, "it was a bit slippery but just went for it. I did go off at Park but the others followed," he admitted. "He drove past me easily on Park Straight though," Stacey added.
C'est La Vie retained the lead until their first stop when Dickinson took over after 14 laps. Pollo Rosso and Old Hat's Bruce had already made their initial stops too.
The top five had got away for a while and as the stops continued Joe Wiggin began to climb the leaderboard for McAttack.
Sundial, Bend it and Mend it and McAttack all had spells in front, but after the first hour it was Sundial from Pollo Rosso, McAttack, Bend it and Mend it and Team Bengineering on the lead lap still.
During the second half Sundial began to take charge and from lap 34 were never headed as Roddison brought the car to victory by over a minute. "I just watched the lap times and conserved fuel to bring it home," he said.
"We hadn't intended doing this race but glad we came back. We were solid and consistent," Stacey added.
The Bend it and Mend Squad had taken over second from Pollo Rosso in the latter laps when they pitted, but they too had to make a stop and the McAttack car of Wiggin and Declan McDonnell took the place. "We lost time at the start but matched the rest on times and then got quicker," said McDonnell. "My front tyre was going down though after I hit a kerb," Wiggin added.
Dougill brought Bend it and Mend it home third, from the closing C'est La Vie. "I could see them catching, thought it was under control and then had the fuel light on for the last lap," he explained. "My front left wasn't at its best, but they were just too far ahead," C'est La Vie's Dickinson replied.
Anderson snatched fifth for Willow Racing from Pollo Rosso on the last lap. "I got a run through the Gooseneck and had him under brakes for the Mountain," he said.
Matt Owen's Maximum Effort was a lap down in seventh having run solo, while PT Sportscars, Mission Motorsport and C1 want one completed the finishers.
Old Hat were classified 11th but Callum Hutchings had crashed out at the Gooseneck. "I just got a bit squiffy, but thought I had saved it," he reckoned. A few laps earlier Karen Atkinson had put the Bengineering car into the barrier at the same point.
https://c1racing.club/wp-content/uploads/2017/11/Club_Logo_Red_Black_300x137-300x137.jpg
0
0
Caryl Wills
https://c1racing.club/wp-content/uploads/2017/11/Club_Logo_Red_Black_300x137-300x137.jpg
Caryl Wills
2017-09-14 00:30:49
2018-10-21 16:56:46
Cadwell 2017 Race Report